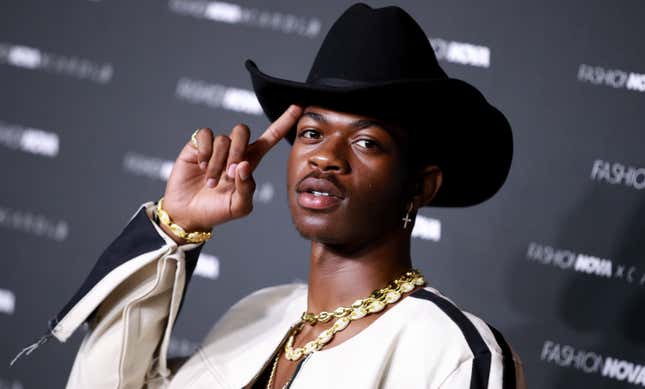 Is he country enough for you now, Billboard?
Hot on the heels of his star-studded video for the "Old Town Road" remix, featuring Billy Ray Cyrus, Lil Nas X is bringing the song's lyrics, "Cowboy hat from Gucci, Wrangler on my booty" to life, partnering with Columbia Records and Wrangler Jeans on a denim capsule collection and offering exclusive behind-the-scenes footage on the making of his crossover hit.
Comedian London Hughes Talks New Book, Parents Watching Her Very Sexual Comedy, & Beyoncé
As Complex reports, the footage will be released to fans "scanning" (read: uploading) a photo of the back pocket of their Wranglers on the collab homepage, aptly named "Wrangleronmybooty.com" If you want to bypass the behind-the-scenes footage in favor of the collection of branded shorts, shirts, and denim, it's available now from $39 to $129.
"As an iconic brand in fashion, we have shown up in music, film, and popular culture for decades, but this is the first time our jeans are actually the key to unlocking a behind-the-scenes look at the making of a chart-topping hit," Jenni Broyles, VP/GM of Wrangler North America, told Complex. "We're incredibly excited about the success of 'Old Town Road' and our partnership with Lil Nas X. It is another great example of the power music – and in our case, fashion – has to unite and inspire us all."
The Lil Nas X's label, Columbia, agrees. "The phenomenon surrounding the track has broken boundaries and allows for a brand like Wrangler to hone in on its Western DNA while tapping into current culture," said Jennifer Frommer, SVP of Brand Partnerships.
As to be expected, not everyone is thrilled by the collaboration. As compiled by The Shade Room, several commenters on Wrangler's Instagram post announcing the collaboration claimed Lil Nas X doesn't possess the country cred to rep the 115-year-old brand.
"[W]rangler has for hundreds of years been a cowboy/country gold type of jean!" read one comment. "Why would you try to make it about rap music just because the rap music is trying to be country? ... [S]uch a step down for wrangler!"
Clearly, Wrangler was ready for the racism backlash, answering another commenter, "We appreciate your feedback. Since 1947, we've offered jeans for a variety of wearers and wearing occasions. Our western heritage and offering quality product for all wearers will always be the very heart of our brand."
Classy... and country. (No word on whether Gucci will be throwing its hat in the ring, too.)