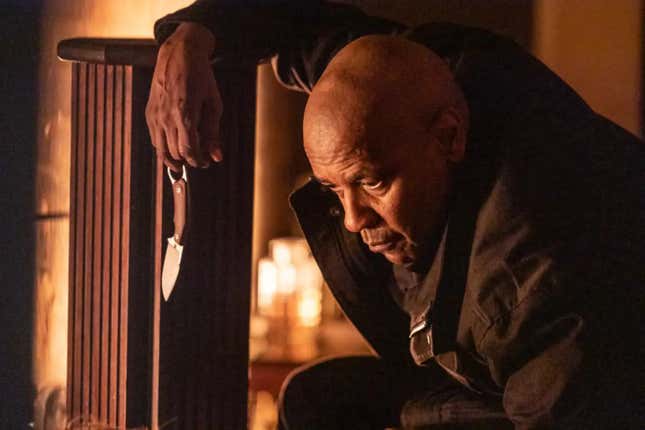 Denzel Washington is one of the greatest actors of all-time. Even in a bad movie, he's amazing. Yes, I'm looking at you The Little Things. Making a list of his best roles is asking for trouble. But as we get ready to enjoy all the damage he does in The Equalizer 3, we were curious what Rotten Tomatoes has to say about the GOAT. So, these are Denzel Washington's top five movies, according to the popular review site.

Denzel Washington and Dana Canedy Talk 'A Journal for Jordan'
Note: Documentaries and films where he has a small, inconsequential role were not included.
Glory - 95%
It's very interesting to see one of Denzel's earliest movie roles at the top of this list. What makes his performance in Glory so captivating is the way he chooses to portray his character's growth. The white commanders don't change or break Trip, it's the brotherhood he develops with his fellow soldiers that ultimately helps him shed some of his anger and open himself up to care again. The nuance in how Washington never lets us forget the horrors this man has survived is the reason he won his first Oscar for this performance.
Devil in a Blue Dress - 92%
Devil in a Blue Dress is such a fascinating thriller. Denzel's Easy is hired to find a girl, but in 1940s LA, there's always more to the story. The Oscar winner's penchant for layered character development is on full display here, as the audience is treated to a performance that is simultaneously understated and powerful. That may sound like an impossible contradiction, but it's something Washington excels at. He never overwhelms viewers or beats them over the head with a story arc. He takes your hand and guides you through an unforgettable emotional journey.
Fences - 92%
There's a wisdom and experience that comes with age. It can't be duplicated or faked. In Fences, Denzel Washington and Viola Davis deliver a masterpiece of art that could only be achieved by two actors with the full weight of experience and acting genius they possess. As amazing as Denzel is, he could not have given a performance with this emotional range when he was younger.
Mississippi Masala - 92%
Be honest, out of all Denzel's early films, you did not expect to see this 1991 romantic drama come in ahead of classics like Malcolm X, The Hurricane and American Gangster. Mississippi Masala is fine and Washington is good in it, but this is definitely a representation of the difference between critics and fans, because it only has an audience score of 64 percent. Seriously, how does Malcolm X only have 89 percent?
The Tragedy of Macbeth - 92%
Over the years, every great actor in the world has put their stamp on "The Scottish Play." However, we rarely get to see Black actors bring it to life for the masses. When this movie was announced, we knew we were getting something special and Denzel did not disappoint. His performance here is the definition of an acting masterclass. It is true artistic genius at work. If you somehow missed this one, stop what you're doing and settle in, because it's breathtaking.

So what's your verdict? Did Rotten Tomatoes get its Denzel ranking right? Do you love Mississippi Masala and think I'm crazy? Are you wondering why Heart Condition is his lowest rated movie with 10 percent? Are you like me and can't get enough of watching him Equalize the bad guys? If the answer to that last one is yes, you're in luck, because The Equalizer 3 is now playing in theaters.