Wanda Sykes performed at Boston's TD Garden Saturday night, and once she started talking about President-elect Bleeding Gums, the crowd wasn't too pleased.
During her set, Sykes basically told the truth about the dude, and how his election hadn't marked the first time that the U.S. had chosen a "racist, sexist homophobic president."
"He's just the first confirmed one; that's it," Sykes said.
And that's when the Boston crowd started to boo Sykes.
"[F—k] you, [motherf—ker], [f—k] all of y'all," Sykes said. Then she pointed at people and said, "[F—k] you, you, you."
Sykes wasn't the only one to get political at the 22nd annual Comics Come Home fundraiser, held on behalf of the Cam Neely Foundation for Cancer Care, but according to the Boston Herald, she was the only one to receive boos.
G/O Media may get a commission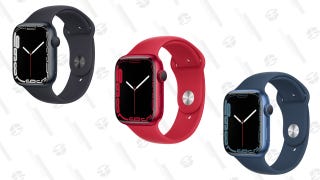 Up To $45 Off
Apple Watch Series 7
But the boos didn't stop Sykes; she continued her set about the racist.
"How can you say he's not racist?" she asked. "'Grab them by the [p—sy]'? How can you say he's not sexist? How can you say he's not homophobic?"
After her set, she flipped the crowd the middle finger and walked off the stage.