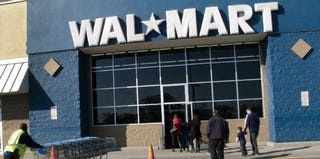 Rihanna's disastrous 777 tour: Seven countries, seven days of shows and pretty bad time for the journalists who were covering it. Check out some of their hilarious stories from the trip.
Wal-Mart workers plan Black Friday strikes: On Black Friday — when consumers traditionally take advantage of a holiday after Thanksgiving — some Wal-Mart workers plan to walk off the job to protest the company's resistance to its workers' efforts to organize. Earlier, ColorOfChange.org Executive Director Rashad Robinson said in support of the strike: "Wal-Mart workers are courageously taking a stand against one of the biggest corporations on the planet and saying enough is enough. The gap between the rich and the poor will continue to widen, and income inequality will only worsen, unless everyday people stand up and support this growing effort for worker rights and the government works to raise the minimum wage and put greater regulations on corporations that misuse worker. Right now Wal-Mart has the opportunity to raise the standard for millions of low-wage workers."
Lenny Kravitz as Marvin Gaye? He has reportedly lined up a starring role in a biopic centering on the singer's later years, the Evening Standard reports.
Starz cancels Boss after two seasons: The political drama starring Kelsey Grammer, Sanaa Lathan, T.I. and others got the ax from the network early Tuesday.