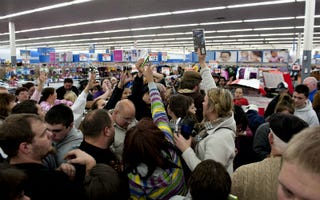 Police are looking for a Los Angeles woman after she reportedly used pepper spray to bypass eager Black Friday customers, according to the Los Angeles Times.
The unidentified woman attacked as many as 20 customers at a San Fernando Valley, Calif., Wal-Mart in an attempt to skip the line ahead of fellow bargain seekers who were waiting for the 10 p.m. start to the store's Black Friday sales. Officials say the woman located and purchased items before dashing the scene unnoticed. Sections of the North Los Angeles Wal-Mart were cordoned off to triage pepper-sprayed customers.  
"This was customer-versus-customer 'shopping rage,' " Los Angeles Police Lt. Abel Parga told the Los Angeles Times.
The pepper spray attacks reportedly brought added dysfunction to an already chaotic situation reminiscent of many typical Black Friday shopping scenes — including scuffling, yelling and torn displays.
Reports from other parts of the country are also detailing several late-night robberies, gunshots being fired at malls and bodily injury as hordes of anxious shoppers trampled their way into stores — all-too-common headlines for a Black Friday. 
Read more at the Los Angeles Times.