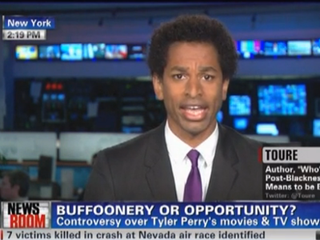 In a CNN appearance, author and cultural commentator Touré compared Tyler Perry films to "cinematic malt liquor," saying that they teach black women to embrace feelings of "victimhood" and are popular simply because they are some of the few voices speaking to the people who make up the bulk of their audiences:
Tyler Perry is definitely serving an audience that is underserved by Hollywood. Especially black Southern women do not see themselves at all in Hollywood fare. So when he's serving them movies where they appear to be in situations that are naturalistic and recognizable to them and definitely have that Christian message, I absolutely understand why my grandmother, my mother and my aunts love this stuff, and my family down South, they love this stuff. I just can't watch it without cringing because I've seen good movies, and I know these are poorly made films.
Source: Mediaite.
Dr. Boyce Watkins retorted in Perry's defense that his media empire provides black jobs. Touré's response: So do drug dealers.
Watch the exchange — which is a piece of black entertainment in and of itself — here:
Read more at Mediaite.
In other news: Troy Davis Update: Last-Minute Appeal.