Surveillance footage a Virginia school district apparently tried to keep under wraps shows a now former Arlington Middle School security guard convicted of battery grabbing two students and slamming them to the ground, WJAX-TV reports.
According to the news station, it took four months of public records requests for it to obtain the footage from the state attorney's office.
The video shows now former security guard Robert Fields manhandling the two students, who were 13 and 14 years old at the time, in the hallway at the school's building for students in the emotional or behavioral disability program.
According to court documents, on Dec. 9, 2015, Fields was trying to take a football and a basketball away from the boys after they disobeyed their substitute teacher and went outside to play.
The video shows the boy wearing a blue shirt being grabbed twice by Fields as he tries to walk away. The second time Fields grabs the boy in blue, he grabs the student by the neck from behind in a choke hold and drags him to the ground.
G/O Media may get a commission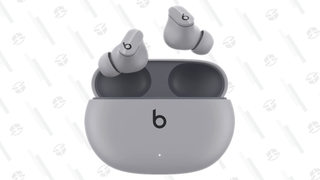 The other student, who is wearing a red shirt, is arrested.
His mother complained about the incident two days after the altercation, saying that Fields "choked her son and banged his head against the wall."
In June, two school resource officers, Sgt. Leslie Sams and Officer Ryan Goethe, were punished for not thoroughly investigating the incident. Both Sams and Goethe are still employed by Duval County Public Schools.
The boy who was charged would not have been arrested if the two officers had actually watched the surveillance video, a school police report noted. The charges against the teen were ultimately dropped.
However, another four months went by before Fields was arrested in May. He was originally charged with felony child abuse in the treatment of the boys, but those charges were lowered to a misdemeanor battery charge, to which he pleaded guilty, and he was sentenced to one day in jail and a year of probation.
Read more at WJAX-TV.