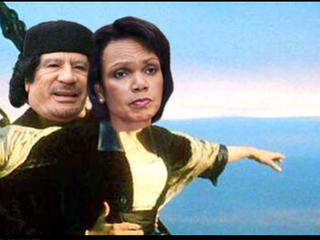 Remember when rebels raided Libyan leader Muammar Qaddafi's compound in August, and they found a photo album filled with pictures of Condoleezza Rice?
Well, it turns out the weirdness didn't end there. The former secretary of state sat down with ABC News' George Stephanopoulos for a recent interview and described a "really strange" meeting she had in 2008 with Qaddafi, who was killed last week in his hometown of Sirte.
Stephanopoulos relays the discussion:
"What was going through my head was 'How long do I have to sit here and how quickly can I get out of here?' You know, it was funny because when he said, 'I have a video for you,' I thought, 'Oh my goodness, what is this going to be?' But it was actually just a bunch of pictures of me with Vladimir Putin, me with Hu Jin Tao,' " [Rice] told me. "And then he said, 'I have Libya's best composer, most famous composer write this song for you,' and it was called Black Flower in the White House," she told me, calling the scrapbook "eerie."
It's not Rice's first mention of the "eerie" obsession that Qaddafi seemed to have with her. In a recent advance excerpt of her book, No Higher Honor, Rice writes that her first trip to Libya was preceded by Qaddafi "asking visitors why his 'African princess' wouldn't visit him." In her book, she also describes the personal song that had been composed for her as "weird" but not "raunchy."
The Huffington Post has a video poking fun at the situation.
Read more at the Huffington Post.
In other news: Michelle Obama's Parenting Rules.