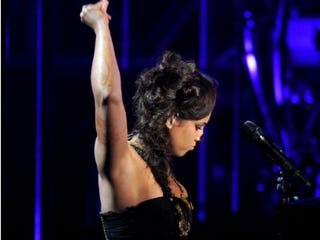 VIDEO: 2011 BET Awards performances: If you missed it or want to relive it, check out the highlights here.
Fans celebrate Michael Jackson on anniversary of his death: Hundreds of Michael Jackson fans have marked the two-year anniversary of the singer's death by gathering for a memorial outside the Gary, Ind., home where Jackson grew up, the Associated Press reports.
New York gay-marriage vote expected to ripple nationally: Days after the state became the second largest in the country to legalize same-sex marriage, advocates say that what happens in the state has national implications and will encourage lawmakers elsewhere to support gay marriage.
Seven black celebs who paid for being outspoken: These celebs have had to learn the hard way that silence can be golden.
In other news: Rebbie Jackson Talks About Daughter's Bipolar Disorder.