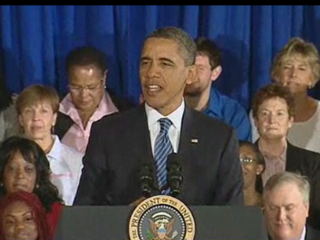 On Wednesday, President Obama told the African-American Policy Agenda Conference that his three years of accomplishments have lessened the severity of the economic crisis for millions of people, made sure millions have health care and unemployment benefits and kept millions out of poverty, MSNBC reports.
The White House summed up its achievements with respect to African Americans in a report that attendees were encouraged to share with their networks and communities.
"We know tough times," the president said. "And what we also know, though, is that if we are persistent, if we are unified, and we remain hopeful, then we'll get through these tough times and better days lie ahead."
Watch NBC's report on the president's relationship with black voters:
Visit msnbc.com for breaking news, world news, and news about the economy
Read more at MSNBC.
In other news: Survey: Black Women Have Great Confidence.