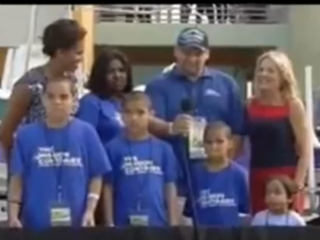 First lady Michelle Obama and Vice President Joe Biden's wife, Jill, were met with noticeable boos from the crowd at a Sunday NASCAR race.
The sad part is that they weren't using the platform for any touchy political issues but were there to promote their Joining Forces project, which works on behalf of military families. You'd hope that would be something fans of all ideological stripes could get behind. The Associated Press reports that they were, however, given a much warmer reception and a standing ovation at the pre-race meeting with the drivers.
Source: Madamenoir
Read more at Madamenoir.