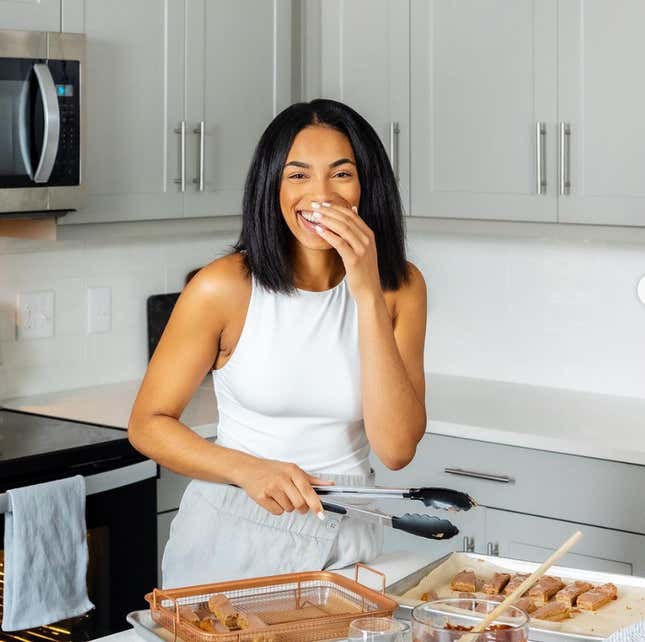 Emani Corcran shares delicious vegan recipes with the over 130,000 followers on her Instagram feed. And her new cookbook, "Blk+Vegan: Full Flavored, Protein-Packed Recipes From My Kitchen to Yours" drops on March 14. But the vegan diet is something new for Corcran. In fact, growing up, she says meat was a part of practically every meal. "I would have bacon and a biscuit and sausage for breakfast, a deli sandwich for lunch, and rib tips or pork chops for dinner," she said. "Meat with every meal was so normalized that I don't think we had a regular vegetarian dish."

Hav & Mar And Red Rooster's Chef Marcus Samuelsson Plays That's So Random
But that all changed in 2019 when she and her now-fiancé watched "What the Health," a documentary that explores food's relationship to cancer and disease. "[Cancer] is something that runs in my family. It's something that I always thought was genetic and bound to happen to me," she said. "But when I found out there was a correlation to food, it really struck a nerve in me."
The Dallas-based food blogger said the film opened her eyes to some things about her health that she could control, and led her to make the choice to become vegan the next day. And even though it was right before Thanksgiving, she gave all her meat to her roommates.
"BLK + Vegan" is a compilation of veganized versions of some of her favorite childhood dishes, along with a few new ones she developed along her vegan journey. "It's really just me in a book," she said. "So you'll see a mix of recipes for things like jambalaya and red beans and rice, but I also have spiced waffles and a coffee ice cream recipe that reminds me of my mom. It's all of the memories I have from growing up." And during our conversation, she shut down all practically every argument I threw at her about why going vegan is just too damn hard.
It Doesn't Have to Cost a Fortune
Corcran says the idea that a vegan diet is too expensive is a myth. "I would say the vegan diet, in its purest form, is probably the cheapest diet you'll ever have," she said. "When you stick to vegetables, fruits, beans, legumes of all types, tempeh, tofu and rice, and other natural things, it's cheap. Things get pricey when you get into Beyond Meat and those fancy branded items." She says recipes like her black bean burger are cheap and easy to make and will feel familiar to meat eaters.
It Can Taste Good
Some vegan-phobic folks may have the impression that the diet is full of bland mush. But Corcran says sauces and seasonings are the key to making great-tasting vegan food. "Salt and pepper are not going to cut it. You're going to need something a little more substantial than that," she says. She recommends soy sauce or Worcestershire sauce as great pantry staples that give your tofu a flavor that reminds you of meat. Nutritional yeast can add a savory flavor with a cheesy vibe. "Go to the seasoning section of your grocery store and have fun."
The Food is Not Hard to Make
Going vegan doesn't mean you have to spend hours in the kitchen. In fact, Corcran says you can make an entire meal in less than ten minutes in your air fryer.
"Chop up a potato, tofu or tempeh, and a vegetable. Throw it in a bowl and season it all with your favorite seasonings and the oil of your choice. I love avocado oil and 1 tablespoon of corn starch. That's what's going to make it nice and crispy. Throw it in the air fryer at 375 - 400 degrees for about 8 - 10 minutes, and you have an entire meal," she said. "Top it off with your favorite sauce, like teriyaki or tahini, and you're done."
When I countered that most Black folks don't just have tahini hanging around their kitchens, "I want you to try tahini. It is something that we don't really grow up eating. It's made from sesame seeds, and it's so good. It's like an elevated flavor," she said.
Corcran says the simple recipes in her cookbook are a great place for the vegan-curious to start. "I made this book for someone who doesn't think the vegan diet is fun or diverse," she said. "It is, and it's really delicious."