Video footage that was taken outside the cell of Jamycheal Mitchell at Hampton Roads Regional Jail in Virginia is now lost forever, despite a family attorney's request that the jail superintendent preserve the footage, the Richmond Times-Dispatch reports. 
Meanwhile, officials at the jail have refused to release the results of an internal investigation, although Taylor said that the results of the investigation cleared the jailers of wrongdoing. 
Taylor said that the video was not kept because it did not show any criminal wrongdoing or negligence. However, the attorney representing Mitchell's family said that the jail should not have made that call on its own. 
"You have a death of a severely emaciated person who was mentally ill in his cell," attorney Mark Krudys told the Times-Dispatch. "Those circumstances are highly unusual, and you would have thought they would have preserved anything and everything related to those circumstances, including the videotape."
Mitchell, who suffered from mental illness, was taken into custody for 101 days last year after allegedly stealing $5 worth of snack food from a convenience store. The 24-year-old died in August after awaiting transfer to Eastern State Hospital in Williamsburg, Va., where a judge had ordered him to be placed after finding Mitchell incompetent to stand trial, the Times-Dispatch notes. 
G/O Media may get a commission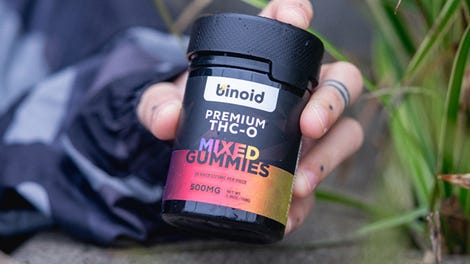 25% Off + Free Shipping
Binoid THC-O Gummies
Mitchell weighed 190 pounds when he was taken into custody May 11 but had dropped to 144 pounds by the time his autopsy was performed after his death Aug. 19. 
The medical examiner's office in Norfolk, Va., ruled that he died due to a heart defect and extreme weight loss. The video footage was believed to contain evidence as to what type of care Mitchell had received while being held at the jail, how often he was monitored and given food, and whether he returned his food trays empty. 
"There was no indication that Mr. Mitchell was not eating," Taylor said. "If the officers had any indication that he was not eating his food, he would be placed on what is determined to be suicide watch or hunger strike."
Mitchell was supposed to be checked on at least 49 times a day: every 30 minutes by jail guards and at least once a day by medical staff. The cameras theoretically would have recorded how often he was being observed and how often his cell was cleaned. 
"Were medical rounds being undertaken?" Krudys said. "Were any medical staff going in to see him to take vital signs? Were social workers going in to see him? All of those types of things. How is he being treated?"
However, despite Krudys' official request to save the footage 14 days after Mitchell's death, the footage was recorded over under an old system that automatically records over existing video every 18 days, the Times-Dispatch reports. 
"If there's nothing on the video that's going to show any type of criminality or negligence, we're not going to maintain it," Taylor said. "We only save video whenever there's something significant we need to review."
When asked if an inmate's death qualified as significant, Taylor told the Times-Dispatch, "For example, if an individual is in their cell and something occurs and we look at the video, and the cell door doesn't open, no one goes in, no one goes out, and there's no negligence, there's no reason for us to maintain that."
Read more at the Richmond Times-Dispatch.