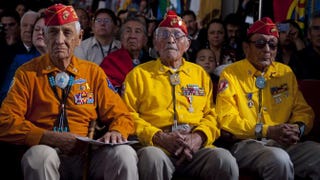 It's not quite reparations, but the U.S. government has agreed to pay the Navajo Nation, the largest Native American tribe in the country, $554 million as part of a settlement stemming from 50-year-old claims in a lawsuit, the BBC is reporting.  
The Navajo Nation leases approximately 14 million acres of its land to the U.S. government to use for farming, oil, gas production and mining, and the tribe said the U.S. had "mismanaged resources on [these] tribal lands."
The news site describes the historic nature of this financial settlement: "It is the largest payment ever made by the government to a single tribe."
Ben Shelly, president of the Navajo Nation, said that the settlement was a "victory for tribal sovereignty."
The Navajo settlement is not the first time the U.S. government has reached financial agreements with Native American tribes because of litigation stemming from resource mismanagement.
In 2012 the U.S. ponied up $1 billion to a consortium of 41 Native American tribes. This latest deal does not prevent the Navajo tribe from filing lawsuits against the U.S. government in the future.
Attorney General Eric Holder, who announced his resignation Thursday, said, "This historic agreement resolves a long-standing dispute between the U.S. and the Navajo Nation," the BBC notes.
Read more at the BBC.