Ohio's Wilberforce University, the nation's oldest black private university, founded in 1856, is in dire straits amid plummeting student enrollment, a financial deficit of $9.7 million and its accreditation hanging perilously in the balance, the Associated Press reports.
Alumni have rallied together in an effort to raise $2 million in cash donations that includes $400,000 promised during a weekend alumni conference, notes AP.
Alumni and university officials announced Wednesday that the floundering university has received $200,000 of the weekend pledge amount.
Wilberforce's alumni feel that a major overhaul is needed if the school plans to remain relevant, Talbert Grooms, president of Wilberforce's alumni association, said in a statement, according to AP.
The school is implementing changes such as reshaping its board of directors, renovating facilities, reforming academics and scouting for a new university president with a vision to propel the school forward.
G/O Media may get a commission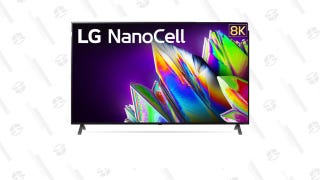 LG 75-Inch 8K TV
Last month the Higher Learning Commission cited the school's troubles as grounds for pulling its accreditation, according to AP. If the school loses its accreditation, it will no longer be eligible to offer federal financial aid to the 80-90 percent of its students who rely on it, and the school will have problems with transfer credits.
Wilberforce has until Dec. 15 to comply with the commission's "show-cause" order and arrange a commission visit by Feb. 9, reports AP.
Interim President Wilma Mishoe has vowed that the university is committed to meeting the commission's accreditation standards, notes AP.
Read more at the Miami Herald.