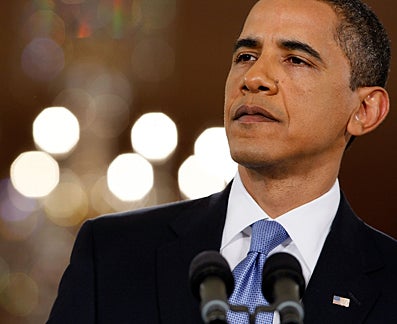 UPDATE: Foreign Policy is reporting the White House's denial of any three-year timetable which was initially reported by CNN.
ORIGINAL CNN REPORT
According to an official, the US will be out of Afghanistan in three years. From CNN:
"President Obama is sending 30,000 additional troops to Afghanistan but plans to conclude the war and withdraw most U.S. service members within three years, senior administration officials told CNN Tuesday.

The president is ordering military officials to get the reinforcements to Afghanistan within six months, White House officials said.

Obama will travel to the U.S. Military Academy at West Point, New York, later Tuesday to officially announce his plans. It would be his second escalation of U.S. forces in the war-torn Islamic country since he came to power in January.

The president also is seeking further troop commitments from NATO allies as part of a counterinsurgency strategy aimed at wiping out al Qaeda elements and stabilizing the country while training Afghan forces.

The expected new troop deployment would increase the total U.S. commitment to roughly 100,000 troops in Afghanistan, bolstered by about 45,000 NATO forces."
Read more on the Three-Year Plan at CNN
ORIGINAL REPORT ON TROOP ESCALATION
President Obama is tossing another 34,000 troops at Afghanistan because…apparently it will turn the tide? From The Washington Post:
"President Obama will outline Tuesday night his intention to send an additional 34,000 U.S. troops to Afghanistan, and his vision for an "end game" to the long-running military effort there, according to U.S. officials and diplomatic sources briefed in advance of the speech.

The new deployments, along with 22,000 troops he authorized early this year, would bring the total U.S. force in Afghanistan to more than 100,000, more than half of which will have been sent to the war zone by Obama.

The president also plans to ask NATO and other partners in an international coalition to contribute 5,000 additional troops to Afghanistan, officials said. The combined U.S. and NATO deployments would nearly reach the 40,000 requested last summer by U.S. Gen. Stanley A. McChrystal, the coalition commander in Afghanistan, as part of an intensified counterinsurgency strategy.

The new troops are to be sent in stages beginning in January, with options to delay or cancel deployments, depending on the performance of the Afghan government and other factors. Defense officials said that, beyond Marine units deploying next month, no final decisions have been made about specific units or the order in which they would be sent."
Read more on the escalation at WashingtonPost.com
Somewhere, LBJ is laughing.