Black. Travel. Excellence.

It's a concept that has literally taken flight—courtesy of skyrocketing black-owned and operated tour company Up in the Air Life.
A glittery diamond on an increasingly dark travel-movement landscape, UITAL's rep for serving up consistent black excellence from Cuba to Croatia is so strong, it's caught the attention of corporate giants like Walmart and has caused the growing Washington, D.C.-based company to triple its revenue since its first trip in 2014. This year UITAL is projected to pull in $1 million.
The reason?
UITAL clients don't take trips—they partake in epic, culturally curated adventures, whether that's puffing poolside cigars with the boys in Cartagena, Colombia, or bouncing to Paris for the kickoff of Beyoncé's world tour.
G/O Media may get a commission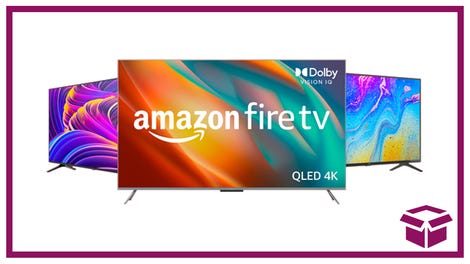 Ooh. stunning.
New Amazon Fire TVs
For passport-sporting millennials and Gen Xers, the opportunity to view the world through a prism of opulence and peak blackness is an opportunity too delicious to pass up.
"Put a group of fly, young, upwardly mobile black folk on a yacht or a plane together and magic happens," says founder Claire Soares, who has built her empire part time working as a software sales rep.
"UITAL tends to attract like-minded groups of people—execs for companies like Microsoft and Google along with doctors, consultants and entrepreneurs—folks who are well-traveled with high expectations," she explains. "The networking is often just as attractive as the experiences are."
And what "experiences" they are: Soares and her staff of 25, located from Mexico to New York (she plans to triple her part-time fun consultant crew by summer), literally scour the earth to create the most memorable adventures for their clientele.
"We have an on-staff sommelier who takes clients on food and drink jaunts through Champagne, France, and Bologna, Italy, pairing five-course meals with some of the world's best wines and champagnes," says Soares, the self-proclaimed "Chief Memory Maker." "In France, we've rented out one of the acclaimed Moet caves and thrown black-tie dinners. In Bologna, our clients have been able to toast to the patriarch of one of the oldest vineyards in Italy, and rub elbows with the Italian wine ambassador. They also get to learn how to make pasta and sauces from scratch."
UITAL "offers only the best," says Soares, because often black travelers are not made to feel welcome or appreciated.
"I think in life [our] people aren't made to feel appreciated, so we go above and beyond to make our guests' experiences special and unique," Soares says. "Seeing them cry at some of the surprise gifts we've given them, or to see us chilling out at literally some of the most luxurious places on earth—like the Copacabana Palace in Rio—brings a smile to my face."
The travel-related glee is both shared and apparent, as evidenced by the rise of such groups as Nomadness Travel Tribe, Travel Noire and the Black Travel Movement, which have hundreds of thousands of black social media followers among them. Then there are those who regularly hop off Facebook and onto a plane, or intend to: CNN reports that intent among black travelers went from 3 percentage points in 2013 to 6 in 2014, then climbed to 19 points in 2015 and went up another 18 points in 2016, per the travel and hospitality marketing firm MMGY Global. With many professional blacks following a nationwide trend that sees 20-, 30- and even 40-somethings getting married and having children later in life, they've got both the time and money to spend on travel.
But UITAL's climbing sales among this prime audience speak for themselves: Last month, the company sold out three mega yachts for Croatia in August in just a few hours—when Soares had only planned on selling one.
"Close to 100 people jumped on this opportunity from all around the world," says the Virginia native, referencing the pricey trip but also UITAL's convenient "pay to play" layaway plan. "It's been our fastest-selling yachting trip to date," she says about UITAL's continued presence as one of the few black groups at world Yacht Week. "Word has gotten out about our high level of service. We cater to Black clientele in a way no other company is doing."
Thirty-four-year-old D.C.-based data engineer Dartanion Williams can attest to this.
Having been on six tours hosted by UITAL or Urban Yacht Life (Soares' spinoff company) and counting since 2014, Williams says that being down with the UITAL crew has been a life-changing experience.
"I linked up with Claire and UITAL at a time I was ready to travel but a lot of my friends were not," he says. "That meant I walked away with a whole new group of friends! I've connected with people who have inspired me to get uncomfortable in my life and make bold moves, such as leave a great day job to start my own consulting practice," he says. "This year, I am working on starting a nonprofit organization whose core focus is to help create more minority data engineers such as myself."