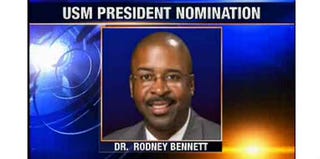 The University of Southern Mississippi is on the verge of creating history by possibly hiring Rodney Bennett as their first black president, reports USA Today.
It's a fact not lost on Southern Miss interim President Aubrey K. Lucas, whose service to the school dates to a period when black students were not even admitted to the university.

"It's been 54 years ago since this university denied admission to Clyde Kennard," the school's first black applicant, said Lucas, who served as director of admissions from 1957-61. "The difference that we can see in those 54 years — that difference is unbelievable. There's been great change in this state. We have to be proud of that progress."

The state College Board announced during a brief new conference Friday afternoon that Bennett, currently the University of Georgia's vice president for student affairs, is the preferred candidate for the Southern Miss job.
Read more at USA Today.
Like The Root on Facebook. Follow us on Twitter.