University of Florida freshman cornerback Deiondre Porter was suspended indefinitely from the team Wednesday morning after he was taken into police custody for allegedly firing a gun at his pregnant girlfriend, the Orlando Sentinel reports.
The Washington Post notes that Porter is facing two counts of assault with a deadly weapon without the intent to kill, one count of aggravated battery, and one count of firing a weapon into a vehicle or building. He is also facing a misdemeanor charge of damaging property and is currently being held at Florida's Alachua County Jail on a $160,000 bond.
"He's no longer with the football team," Florida Gators coach Jim McElwain said during a teleconference. "He is suspended indefinitely for obviously a choice, his choice, not to be with us. It's one of those things that we obviously don't condone."
Porter allegedly became enraged with his girlfriend Sept. 29, accusing her of being involved with another teammate, a Gainesville, Fla., police report indicates. The girlfriend, whom Porter has been seeing for about two years, denied any other relationship, but Porter put a gun to her head, demanding that she tell the truth, police said. The girlfriend is 10 weeks pregnant, and authorities say Porter was aware of the pregnancy. 
The girlfriend allegedly attempted to contact the teammate with whom she was accused of having a relationship, to no avail, and told Porter she would try again in the morning, officials said. The two went to sleep in different rooms, but the next morning, Porter resumed his volatile actions, authorities said, becoming increasingly incensed and ultimately firing the gun in his girlfriend's direction, the Sentinel reports. The bullet lodged into the wall the girlfriend was leaning against. Porter then left the home. 
G/O Media may get a commission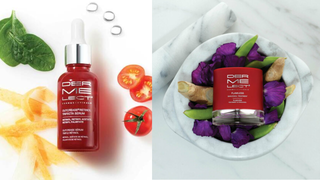 Save $19
Retinol Renewal Kit
The Sentinel reports that Gainesville police found a bullet hole in the wall near the front door and a .45-caliber shell casing under a living room chair. 
Read more at the Orlando Sentinel and the Washington Post.