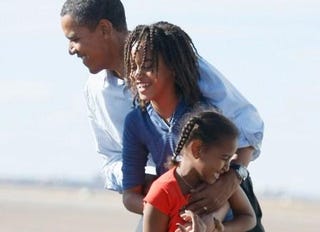 We are all hungry for every minute detail about the Obamas; we've read all about Michelle Obama's trendsetting style, her choice of dresses, the flip of her hair. But my main focus so far has been on Malia. Her hair, to be specific. On her first day at Sidwell Friends School, 10-year-old Malia seemed to announce, without saying, "I'm black."
OK, let's be fair. Malia didn't say anything at all. She's a 10-year-old child who got her hair done, so she could look cute at school. But for me, when I looked at her, I felt as if she was proclaiming, I am confident and comfortable. This is my hair. Yes, these are twists. Double-stranded.
And who knows? Maybe next week, her hair will be TCB bone straight (y'all know, the tan bottle). And that's black, too.
I can remember Malia during the presidential campaign; her twists bouncing as she ran to greet her father. Her occasional cornrows seemed a familiar reflection of a mother too busy to muss and fuss every day with her daughter's hair. And I have admired the girls' fuzz—that look that evolves when it's time to get re-braided or re-twisted.
I'll admit, I was momentarily cynical about Malia's and Sasha's hair during the big, nationally televised moments—the Democratic National Convention and Election Night—when they were primly straightened and curled.
Then, I smiled at memories of holding down my ears to get my hair pressed for Easter Sundays and funerals. That's just how we do it.
I'm a mother of a soon-to-be, 10-year-old daughter who got her first twists on her 9th birthday. She made the decision. I knew it was time to transition from little-girl ponytails, and she had grown tired of the cornrows. I suggested a Just For Me relaxer. She told me: "That's not for me."
I've been wearing twists since I was pregnant with her. So like mother, like daughter. But with my versatile daughter, twists soon turned into a faux-hawk with cornrows cascading into twists down the middle of her head. Funky. That's something I would have been afraid to do as a fourth grader.
I was always one of a handful of black students in white-filled advanced classes in Texas and later Kentucky. One of my worst memories was a game of hot/cold in which a hidden object is found by listening to other kids chanting "Hot!" and "Cold!" My classmates thought it would be funny to hide a pencil in my 'fro. My white teacher didn't object.
I couldn't wait to grow out of the afro and into something more mainstream. Don't get me wrong; I loved to throw my braids around when my older sister put the clear and blue beads on the bottom. (Think Peaches from Peaches and Herb.) But I also didn't mind getting in that chair and awaiting the hot comb. Sparks would fly from the comb, cooled down by a paper towel. Then the singe and the scent. Put your head down! Get the kitchen! Finally, hair just like my classmates. (Thank goodness we've moved to the flat iron.)
Inevitably, I would be peppered with questions.
How'd you get your hair like that?
Do you wash your hair?
As an adult, I still sometimes face questions from white peers. During a book-club meeting in suburban New Jersey I once responded to an earnest questioner: "I don't have time for Black Hair 101."
Weighed down by my own memories, I have tried to help my daughter through such hairy situations. However, she seems to need no help at all. She has grown up in predominantly black classrooms from Harlem to D.C. Everybody's happy to be nappy and curly and straight.
On the first day of school for the Obama girls, I excitedly pointed out Malia's twists. My daughter was ho-hum. Been there, done that.
But I know there are plenty of people watching for whom Malia's bouncing twists signal a sense of arrival.
For others the stylish 'do will prompt thoughts of "How'd she get her hair like that?" and "How can I get my hair like that?"
And Malia doesn't have to answer; she doesn't have to say anything at all.
Nikita Stewart is a Washington Post Metro reporter currently assigned to cover the inauguration of President-elect Barack Obama.