"Donald Trump used a press conference about millions of dollars in donations he says he raised for veterans' groups to hijack the cable news discussion and largely avoid coverage of an anticipated document release alleging misrepresentation by his now-defunct Trump University business," Matt Gertz reported Tuesday for Media Matters for America.
"CNN, MSNBC, and Fox News devoted more than five hours to previewing, airing, and discussing Trump's press conference between 6 am and 4 pm, compared to less than one hour of discussion of the Trump University lawsuit. . . ."
The hijacking was short-lived, however. Reporting on the document release later in the day, Michael Barbaro and Steve Eder reported for the New York Times, "In blunt testimony revealed on Tuesday, former managers of Trump University, the for-profit school started by Donald J. Trump, portray it as an unscrupulous business that relied on high-pressure sales tactics, employed unqualified instructors, made deceptive claims and exploited vulnerable students willing to pay tens of thousands for Mr. Trump's insights. . . ."
Democratic front-runner Hillary Clinton seized on the release, "hammering Donald Trump's namesake set of training programs, calling the school 'more evidence that Donald Trump himself is a fraud, " as Eric Bradner and Dan Merica reported Wednesday for CNN.
"He is trying to scam America the way he scammed all those people at Trump University," the likely Democratic presidential nominee said at an event Wednesday in Newark, New Jersey. . . ."
G/O Media may get a commission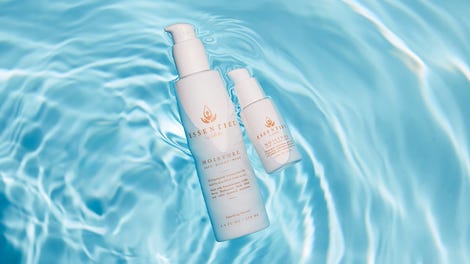 20% off
Essentiel by Adele
Still, journalists expressed admiration at Trump's skill at changing the subject on Tuesday as well as alarm at his verbal assault on individual reporters.
John Cassidy reported Wednesday in the New Yorker, "Early last week, the Washington Post's David A. Fahrenthold reported that he couldn't find any veterans' organizations that had received money from Trump's event. And it was only as Fahrenthold prepared to publish his story, he reported, that Trump moved to fulfill a pledge to donate a million dollars of his own. . . .
"The Associated Press subsequently reported that many of the checks went out just last week, and that at least some were dated May 24th, the same day Fahrenthold's story appeared. Trump, when he took the microphone, didn't pause to explain this coincidence. Instead, he lashed out at the media for querying his actions.
" 'You make me look very bad,' Trump complained. 'I have never received such bad publicity for doing such a good job.' He called the reporting about his donations 'dishonest' and 'unfair,' and he singled out some of the journalists present. Pointing at Tom Llamas, of ABC News, Trump said, 'You're a sleaze because you know the facts and you know the facts well.'
"To CNN's Jim Acosta, who expressed doubts about whether Trump could withstand media scrutiny, the candidate said, 'Excuse me, excuse me. I've watched you on television. You're a real beauty.' At one point in Trump's rant, a reporter asked him if his angry demeanor was an indication of how his White House news conferences would go, should he get elected. 'Yes, it is,' he said. "It is going to be like this.' . . ."
Gertz continued Tuesday for Media Matters, "Trump's campaign originally scheduled a press conference for May 30 to discuss the donations. But on May 29, he moved the appearance to today.
"It's not hard to see why. On May 27, a federal judge ordered the release this week of internal documents from Trump University, a Trump-owned real estate seminar business that is facing several pending fraud and misrepresentation lawsuits brought by former students and by the state of New York. CNN reported that the documents would begin coming out today.
"Donald Trump does not want the media talking about whether he defrauded thousands of people who trusted his company to give them good business advice. By moving his veterans event to today, Trump was able to use what The New York Times has termed his 'unrivaled ability to hijack a news cycle,' ensuring that the media would spend the day focusing on his comments rather than coming back from the holiday weekend with a focus on the contents of the pending Trump University lawsuits.
"All three cable news networks broadcast the entirety of Trump's 40-minute press conference live, and devoted substantial time afterwards discussing his comments, which included both a detailed list of donations he had channeled to veterans and attacks on the press. As Politico noted, Trump 'game[d] the media, again.' . . . "
James Warren, writing Wednesday for the Poynter Institute, agreed: "A challenge in covering him was underscored unwittingly: the more one makes all this about The Donald and The Media, and less about the empirical assessment of his fitness to be president, the more it benefits him. 'It's worked,' Chris Cuomo said this morning on CNN's 'New Day.' He plays the press like he's an insecure beauty pageant queen or a body-building contestant who realizes those steroid-fueled pecs are grotesque. . . . "
Dan Rather weighed in Tuesday on Facebook: "I felt a shudder down my spine yesterday watching Donald Trump's [fusillade] against the press," he wrote. "This is not a moment to be trifled with. It wasn't his first tirade and it won't be his last. . . . Good journalism — the kind that matters — requires reporters who won't back up, back down, back away or turn around when faced with efforts to intimidate them. It also requires owners and other bosses with guts, who stand by and for their reporters when the heat is on. . . ."
At the National Press Club, Thomas Burr, the club president, said Tuesday at a news conference, "Donald Trump misunderstands — or, more likely, simply opposes — the role a free press plays in a democratic society," John M. Donnelly reported for the club. "Reporters are supposed to hold public figures accountable. Any American political candidate who attacks the press for doing its job is campaigning in the wrong country. In the United States, under our Constitution, a free press is a check on politicians of all parties. . . ."
Peter Baker, New York Times: Rise of Donald Trump Tracks Growing Debate Over Global Fascism
Wayne Bennett, the Field Negro: Donald and the "sleazy" press.
Charles M. Blow, New York Times: The Ghosts of Old Sex Scandals
Jonathan Capehart, Washington Post: The most unpredictable presidential campaign is in a rut
Mary C. Curtis, Roll Call: Even in the Waiting Room, No Escaping Trump Talk
John M. Donnelly, National Press Club: National Press Club President: What Does Donald Trump Have Against the Constitution?
Leonard Greene, Daily News, New York: Pat Buchanan calls Donald Trump 'The Great White Hope' in latest racist rant
Michael M. Grynbaum, New York Times: Television Networks Struggle to Provide Equal Airtime in the Era of Trump
Harold Jackson, Philadelphia Inquirer: Trump may be best thing for GOP since Lincoln freed the slaves
Allen Johnson, News & Record, Greensboro, N.C.: 'We will not be driven by fear into an age of unreason'
David Cay Johnston, Daily Beast: Is Donald Trump's Biggest Leaker Donald Trump?
Imara Jones, the Nation: Thanks, Jimmy Carter, for Stating What Should Be Obvious: Trump's Campaign Is Racist (May 26)
Mark Joyella, TVNewser: Bob Woodruff Foundation Among Vets Groups Receiving Trump Donations
Errol Louis, CNN: Trump throws tantrum after reporters do their job
Jonathan Martin and Alexander Burns, New York Times: Hispanic Official to Leave R.N.C. in Sign of Disaffection With Donald Trump
Jim Newell, Slate: The Media Finally Figured Out How to Rattle Donald Trump
James Poniewozik, New York Times: Trump, 800-Pound Media Gorilla, Pounds His Chest at Reporters
Eugene Robinson, Washington Post: Trump's tragic, rolling bluster
Brian Stelter with W. Kamau Bell and Tim Wise, "Reliable Sources," CNN: 'Racial anxiety' as a factor in Trump's rise (video)
Court Stroud, medialifemagazine.com: Seven myths about Mexican-Americans
Kellee Terrell, alldigitocracy.org: Joy Reid checks Ann Coulter on calling Asian-Americans 'Mandarins'
James Warren, Poynter Institute: Donald Trump plays the media to twisted perfection
Erik Wemple, Washington Post: How to get Donald Trump to call you a 'sleaze' on national television
Ben Wolfgang, Washington Times: Hillary Clinton yet to hold single press conference in 2016
Alice Yin, Boston Globe: Latino Republicans spurn Donald Trump

Killing of Zoo Gorilla Quickly Became Issue of Race
"A gorilla who was shot dead on Saturday while dragging a 3-year-old boy has sparked outrage among animal rights activists and prompted a strong rebuke against the boy's parents for their lack of supervision over their son. But somehow — someway — the gorilla's death has also become an issue about race," James King and Adi Cohen wrote Tuesday for vocativ.com.
"Not long after Harambe, an endangered 17-year-old Western lowland silverback gorilla, was shot by officials at the Cincinnati Zoo & Botanical Garden, a social media firestorm erupted. Following the outcry over the gorilla's death, and where to lay the blame, thousands of people took to Twitter to comment on the race of the child and how it affected the zoo's decision to kill the primate.
" 'Killing an endangered gorilla at a zoo for a white boy's safety is white privilege,' a man with the handle Hood Intellect posted on Twitter. 'If the boy was black they would've found a tranquilizer.' Another Twitter user, Isa Ibn, wrote, 'That gorilla was taken from it's [sic] homeland, put in captivity, and then killed to preserve White life. That sounds familiar.'
"The boy climbed through a barrier on Saturday at the zoo's Gorilla World exhibit and fell fifteen feet into a moat, which contained a foot of water. The zoo's official Facebook page published a statement on Sunday that said the gorilla was reportedly 'violently dragging and throwing the child.' First responders decided to shoot the gorilla to save the child, the statement said. The zoo's director on Monday defended the decision to shoot Harambe because a tranquilizer would have taken longer to take effect, putting the boy in even more danger, he said.
"A Vocativ analysis of the Twitter volume found that there were more than 5,500 tweets that mention either 'Harambe' or 'gorilla' with the terms 'privilege' or '#blacklivesmatter.' If you add the word 'white,' there were more than 65,000 tweets.
"The only problem: The boy who the gorilla was dragging around the enclosure was black. . . ."
Kiyonna Anthony added Tuesday for globalgrind.com, "Ever since news broke that a 4-year-old boy fell 15 feet into the enclosure of a Silverback gorilla (causing the zoo to shoot and kill the animal) everyone had an opinion about the situation. The topics of bad parenting, animal rights, and child protection have already come to the forefront, but now the mother of all issues is rearing its ugly head: race. [It was later determined that the boy is 3.]
"It's been revealed that the parents of the boy are African-American and the father has a long criminal history. According to reports, Michelle Gregg and Deonne Dickerson have four children together and Dickerson's rap sheet is pretty extensive. . . . Harambe is now the face of a social media movement, which spawned an online petition called 'Justice for Harambe.' It is not only seeking justice for the slain gorilla, but wants the boy's parents charged. . . ."
Wayne Bennett, the Field Negro: Harambe and the child.
Melissa Chan, Time: Jane Goodall: Slain Zoo Gorilla Was 'Putting an Arm Round the Child'
Demetria Lucas D'Oyley, Essence: Why Are People More Concerned About A Rare Gorilla Than a Black Child?
Editorial, Cincinnati Enquirer: Zoo made the right call
Tracie Powell, alldigitocracy.org: Here's how NOT to cover the gorilla controversy

'Poachable' S. Mitra Kalita Exits L.A. Times for CNN
"The Los Angeles Times has just lost an important digital leader, as S. Mitra Kalita — just named as one of the ten most poachable players in media — leaves her job as managing editor for digital strategy of the paper to become vice president of digital programming at CNN, starting later this summer, Ken Doctor reported Tuesday for Politico Media.
"Kalita's hiring at the Times one year ago won notice in the news industry. She had set a fast pace for newsroom innovation, early on at the Wall Street Journal, Washington Post, Newsday and the Associated Press, and then as executive editor-at-large and ideas editor at Quartz.
"Quartz's serial innovation was well enough noted that Kalita became widely sought. It was the change effort at the L.A. Times, then led by Publisher Austin Beutner, that led her to Los Angeles — and to the challenge of the digital reinvention of the metro news business.
"Kalita won't discuss her immediate reasons for leaving the Times and Tribune, but the recent tumult clearly played a role. . . ."
Doctor also wrote, "If Kalita's talents and profile put her on the most-wanted lists at major news organizations, the chaos at the top of Tribune contributed to smoking her out of hiding. She trades a situation of uncertainty for the stability of a top digital news site, well situated within the more friendly confines of CNN and its parent Time Warner's Turner Broadcasting Group. . . ."
Kalita told Doctor, "This is a chance to innovate in an area that is pretty key to the future of storytelling. The vice president for programming is also the final decision-maker in what stories, headlines, visuals get pushed out on the site and across platforms. I've spent my career trying to make journalism more accessible, the foreclosure crisis in America to labor laws in India to homelessness in Los Angeles. This job represents incredible power to shape stories people already care about and bring new angles and awareness to those they don't.'
"At CNN, she hopes, 'the pivot to "digital" is a more natural one. I also have an eleven-year-old focus group at home who constantly tells me she hears about something on Instagram and then checks CNN to 'see if it's true.' Indeed, when news happens, you turn to CNN. That is incredible reach but it also represents incredible opportunity for further engagement.' . . .

N.Y. Times Co. Hires Director of Talent, Inclusion
The New York Times Co. announced Thursday "that Ellen Shultz, currently vice president and head of Human Resources at Media General, will join The Times next month as executive vice president of talent and inclusion.
"In this role, Ms. Shultz will assume leadership of the company's global human resources team and all aspects of its operation. As a member of the executive committee, Ms. Shultz will report to President and CEO Mark Thompson," the announcement said
In a presentation to news and business managers in April, Thompson "identified three areas toward which diversity efforts must be channeled: recruitment, hiring and promotion," Erik Wemple reported then for the Washington Post. "Supervisors who fail to meet upper management's requirements in recruiting and hiring minority candidates or who fail to seek out minority candidates for promotions face some stern consequences: They'll be either encouraged to leave or be fired. . . ."
Thursday's announcement continued, "Mr. Thompson said, 'Ellen is joining The Times with an outstanding track record and highly relevant experience at companies undergoing significant digital transitions like ours. We will rely heavily on her expertise in helping us to attract, develop and retain outstanding employees and to think and work differently across the organization. I'm looking forward to her arrival and to welcoming her to The Times on June 27.' . . ."
Desiree Dancy, who was chief diversity officer and vice president for corporate human resources at the New York Times Co., left the organization in 2013.
She told Journal-isms then, "The Times has reduced its business units and has refocused its operation to a smaller, and more singularly directed company," changing the nature of her job.
Sarah Ellison, Vanity Fair: Can Anyone Save The New York Times From Itself?

Snoop Dogg Knocks Idea of 'Roots' Reimagining
Producer "Will Packer expected critics to pile on following the debut of the 'Roots' remake, and he's got a response for them, including rapper Snoop Dogg," TaMaryn Waters reported Tuesday for the Tallahassee Democrat.
"The rapper posted a profanity-laced Instagram video that lambasted the miniseries for debuting on Memorial Day and depicting the lives of black American slaves. Of all his work, Packer said the miniseries has been the most heavily criticized. His other work includes 'Ride Along' and 'Ride Along 2,' 'Think Like a Man,' 'Think Like a Man 2' and 'the Perfect Guy.'
" 'They're uncomfortable revisiting the reality of that time,' Packer said. 'I understand it. But at the same time, I vehemently disagree.'
"When asked about Snoop's position, which went viral Monday, Packer said the rapper was entitled to his opinion.
" 'I think that while I certainly don't judge Snoop at all because I'm very flawed myself, I just think the irony of having him saying and using the n-word, saying, 'A real n-word like me wouldn't watch this,' Packer said. 'I couldn't help but think there's a ghost of some horrendous slave owner that is smiling and smirking as he watches this black man say that and call himself that …I think that slave owner probably said, "Preach. I agree." ' "
Roland Martin, host and managing editor of "News One Now" on TVOne, responded to Snoop Dogg on Wednesday's program.
"Martin addressed his comments by saying that Snoop Dogg as well as other African Americans are in full denial of American slavery when in fact they should be proud of their ancestors for being survivors," according to TVOne. (video) "Martin also suggests that instead of Snoop Dogg doing films that depict the Black community in a negative light, he should be collaborating with successful African American directors to depict more positive images of Black American history. . . ."
Stephen Battaglio reported Tuesday for the Los Angeles Times, "The two-hour premiere of 'Roots,' which aired across four cable networks — History, A&E, Lifetime and LMN — drew 5.3 million viewers from 9 to 11 p.m. . . ."
Battaglio also wrote, " 'Roots' faced some tough competition on the night. Nielsen data shows that an average of 15.9 million viewers watched TNT's Monday telecast of the Western Conference NBA playoff final with the Golden State Warriors' 96-88 victory over the Thunder, giving [Stephen] Curry's team a 4-3 win of the series."
He further explained, "The total viewership for the 'Roots' premiere went up to 8.5 million when two rebroadcasts on the night are added in. A&E Networks said in a statement that it expects a further lift when delayed viewing on DVR and video-on-demand are added. . . ."
Kerra Bolton, medium.com: How to Help Your Black Friends Survive Watching the Roots Reboot
Jarvis DeBerry, NOLA.com | the Times-Picayune: 'Roots,' Kunta Kinte and the freedom that comes from resisting
Marisa Guthrie, Hollywood Reporter: 'Roots' Reborn: How a Slave Saga Was Remade for the Black Lives Matter Era (May 25)
Michael Harriot, Ebony: Snoop Can't Criticize 'Roots' When He's Serving Poisoned Kool-Aid Too
Soraya Nadia McDonald, the Undefeated: Uprooted: Wounded. Wonderful. In 'Roots,' Emayatzy Corinealdi gets at the lemonade before 'Lemonade'
Ryan Parker, Hollywood Reporter: Snoop Dogg Asks Fans to Boycott 'Roots': "Let's Create Our Own Shit Based on Today"
Keith Reid-Cleveland, Black Youth Project: John Amos Says 'Roots' Remake Signals Hollywood Is "Creatively Bankrupt"
Maulud Sadiq, medium.com: We're Tired of Seeing Our Suffering . . but our condition continues to get [worse]
R. Thomas Umstead, Multichannel News: What History Wants You To Know About 'Roots'
Brennan Williams, HuffPost BlackVoices: T.I. Shares Why He Was Initially Hesitant To Join 'Roots' Remake

Let NFL Team Restore Its Old 'Scalp' Lyrics
"If 90 percent of Native Americans aren't offended by the name of Washington's professional football team, as a Washington Post poll recently found, then let's undo all of the changes to the team uniform and fight song," Courtland Milloy wrote Tuesday for the Washington Post.
"Bring back the 'Dancing Indians,' as the 'Redskinette' cheerleaders were sometimes called in the 1960s. Let them don those 'squaw' outfits and put the fake Cherokee hair extensions back on their heads. Give the marching band feathered war bonnets for their 'Pow Wow' music, and restore the original lyrics to the team fight song:
" 'Scalp 'em, swamp 'em
" 'We will take 'em big score
" 'Read 'em, weep 'em, touchdown!
" 'We want heap more!
" 'So what if it would make D.C. fans look foolish. A team with a name like 'Redskins' has no shame to begin with.
"Revive the tradition of having white men with head feathers run onto the field at halftime to perform their 'wild Indian dance.' Find a replacement for Chief Zee, the African American man who served as the team's unofficial mascot for more than two decades.
"Enough with darkening the Native American logo on the football team helmet. Restore the color of the Indian skin to a brighter shade of red like it used to be.
"The Washington team used to put out game-day programs that featured caricatured images of Native American children. Bring those back, too. The kids were depicted as using their wily Injun ways to hamper opponents' mascots — such as sneaking up on a Philadelphia Eagle and pouring salt on the bird's tail. . . ."
Peter d'Errico, Indian Country Today Media Network: 'Redskins' in Media and On the Ground
Janine Jackson, Fairness & Accuracy In Reporting: Rare Media Interest in Native American Views — on Behalf of Indian Mascots

More Diverse Pulitzer Winners, but Progress Is Slow
"Within the cardboard boxes and reams of microfilm that hold the last century of Pulitzer Prize-winning journalism lies a troubling story about a group of journalistic underdogs: the women and people of color who are being shut out of American journalism's most prestigious award," the editors of Columbia Journalism Review wrote on Tuesday.
". . . the ranks of Pulitzer winners have grown more diverse, but progress has been so slow that the percentage of non-white winners over the last decade is essentially identical to the percentage over the last 100 years. The news is better for women, who, while still a distinct minority, are at least gaining ground faster, and winning Prizes in a range of categories often thought to be heavily male-dominated, such as investigative and international reporting.
"The data illuminate other half-hidden patterns. We found that nearly a third of African-American Prizewinners have won for commentary. Our analysis of international Prizes suggests a narrow view of what counts as Prize-worthy in places like Africa and the Middle East. And art criticism is having a moment: It has won four Prizes in the last 10 years, more than any other subject in the criticism category.
"To compile these data, two CJR researchers spent weeks analyzing winners over the past century. . . ."
Meanwhile, Columbia University announced Tuesday, Elizabeth Alexander, an acclaimed poet, author and professor, has been elected to the Pulitzer Prize Board.
"At the Ford Foundation, where she began work last year as the Director of Creativity and Free Expression, Alexander shapes and directs grant-making in arts, media and culture," the announcement said. "She guides efforts to examine how cultural narratives affect and shape social movements and how media and the arts, including film and visual storytelling, can contribute to a fairer and more just society. . . ."
Gene Demby, NPR "Code Switch": The Code Switch Podcast, Episode 1: Can We Talk About Whiteness?
Linda Ha, Voice of America: Asian Americans Underrepresented in News Media
André Natta, Poynter Institute: I'm writing about newsroom diversity. What does that even mean?
Matt Schiavenza, Asia Society: Interview: The New Yorker's Adrian Chen on Diversity, Longform Writing, and His Fascination With Trolling

Chinese Company Apologizes for Racist Laundry Ad
"Last week a Chinese advertisement for laundry detergent, in which a young woman stuffs a black man into the washing machine to turn him into an attractive, pale-skinned Asian, went viral on the internet," Josh Horwitz wrote Monday for Quartz. "Detractors from both inside and outside China widely described the ad as racist, and also noted how it blatantly copied an equally racist Italian ad released years earlier.
"In response to the online backlash, Qiaobi, the company behind the advertisement, issued an apology over the weekend. On Sina Weibo, it posted a brief statement expressing regret for the ad [link in Chinese] . . . ."
Barry Sautman and Yan Hairong added Wednesday for the South China Morning Post, "By now, there has been a fairly comprehensive discussion of the racist ad produced by the detergent company Qiaobi that depicts the laundering of a 'dirty' black man into a 'clean' Chinese.
"Beyond condemning the ad, those of us in China should also call for its perpetrators to be sanctioned under Article 9 of China's Advertising Law, which forbids ads containing discrimination based on nationality, race, religion or gender.
"One key aspect of the discourse has yet to be treated, however — its political uses. One of us has been interviewed about the ad by journalists for several 'top' Western news sources. The main question posed was whether it shows that 'the Chinese are racist.'
"As of 2010, there were 43 million companies in China. Not all advertise, but even if only 2 per cent do, that's almost one million companies. Many firms have issued a multiplicity of ads. Arguably, no conclusion about racism among the 1.4 billion Chinese can be made based on a single ad. When racist ads or statements appear in the Western media – and there have been plenty – no one claims they show 'the Americans,' 'the French,' and so on, are racist.
"That said, the question of whether a racist world view is more common among Chinese than among other people needs to be answered, if only because Western media foster that impression. . . ."

Short Takes
"The U.S. Department of Justice must reopen an investigation into the cases of five Vietnamese-American journalists killed between 1981 and 1990, based on information uncovered by ProPublica and Frontline," the Committee to Protect Journalists said Wednesday during a news conference at the National Press Club.
NBCNews.com Wednesday launched "NBC OUT," "a new vertical dedicated to coverage about and of interest to the LGBTQ community," an announcement said. "The vertical is live at http://NBCOUT.com — original content today ranges from a profile piece about an intersex millennial to an article about cisgender, black gay men in history, and a multimedia report about a Thai immigrant who started a transgender modeling agency. . . ."
"A group of south Asian migrants have said they were forcefully placed in 'body bags' and shocked with Tasers by Immigration and Customers Enforcement (ICE) officers as they were being deported from the US, allegations that have raised red flags for advocates and immigration attorneys," Aviva Stahl reported Friday for the Guardian. ". . . Seven detainees who had been on the flight, have detailed their claims of abuse by ICE to the Guardian. . . ."
In Detroit, "Bosco the dog has WXYZ reporter Kim Craig and her friend to thank for being alive," Kevin Eck wrote Tuesday for TVSpy. "Bosco's owner was walking the dog to his new home in the Detroit heat when Bosco started having trouble breathing, threw up and couldn't go on. Turns out, Bosco was suffering from heat stroke. The reporter for the Detroit ABC affiliate called Detroit Dog Rescue who called Oakland Veterinary Referral Services where Bosco was put on oxygen and given an IV. His owner gave him up because she couldn't keep him in her new home. Craig wrote on the WXYZ site, "You can follow Roscoe's progress on Detroit Dog Rescue's Facebook page. And if you'd like to donate to his care, you can visit their website at DetroitDogRescue.com. . . ."
"Through a collaboration underwritten by a Ford Foundation grant, The Fund for Investigative Journalism (FIJ) and the Schuster Institute for Investigative Journalism at Brandeis University have joined forces to broaden opportunities for independent investigative reporting by women and journalists of color," the organizations announced. "Four independent, U.S.-based reporters with strong proposals to investigate significant systemic or social justice issues will be selected." Grants will provide up to $9,000 to pay the expenses of reporting a specific investigative story.
Mike Sager, writer and former Washington Post reporter, recaps the story of Janet Cooke for the spring issue of Columbia Journalism Review. As the Associated Press explains, "Janet Cooke, a reporter for The Washington Post, was awarded the Pulitzer Prize April 13, 1981, for feature writing with a story about an 8-year-old heroin addict. She later returned the Prize when it was discovered the boy did not exist. . . ." Sager and Cooke had dated.
Mandi Woodruff is leaving Yahoo Finance to join MagnifyMoney as its new executive editor, Tracie Powell reported for her alldigitocracy.org site. MagnifyMoney is "a rapidly growing personal finance website dedicated to providing unbiased, actionable advice."
Accepting the 2016 Ralph Lowell Award May 17 from the Corporation for Public Broadcasting, Jennifer Lawson, who retired as senior executive of television and digital content, said, "Millennials are now the largest generation. Latinos, African Americans, Asian Americans and other cultural groups are increasingly becoming the majority. If we do nothing to attract them as viewers, we risk becoming out of sight and out of mind to this important, defining generation. . . ."
Rob King, senior vice president for ESPN's SportsCenter, has been elected to the board of directors of the Center for Investigative Reporting, the center announced on Wednesday. Phil Bronstein, CIR's executive chairman of the board, said in an announcement, "His board counsel will add immeasurably to CIR's ambitious and innovative quest for high-impact, scalable and sustainable investigative reporting. . . . "
The Undefeated Wednesday published "the first of two consecutive commentaries by Michael Eric Dyson on Stephen Curry, his family and their influences on questions of race, color, family and faith." Dyson wrote of the Portland Trailblazers MVP, "there is a vexing issue I didn't raise with Curry and his family — an issue that his celebrity has shined new light on: the difference one's visibility makes to the race, and to the larger world, if one is light-skinned or dark-skinned. . . . ."
Ebony Reed, the Associated Press' director of business development in U.S. local markets, is leaving the AP on Tuesday to become executive advertising director at the Boston Business Journal and oversee a multiplatform advertising and event sponsorships sales team, the Associated Press announced internally on Monday. Reed joined the AP in 2010 as assistant chief of bureau for New England and previously worked for the Detroit News.
The Radio Television Digital News Foundation selected 12 producers, reporters, editors and online journalists to become fellows in Europe this October "as part of our longstanding relationship with the RIAS Berlin Kommission," RTDNF announced Wednesday. The German/American Journalist Exchange Program runs from Oct. 2 to 15. Chosen were Amena Al-Sadi, Yasmin Amer, Barbara Brosher, Marla Cichowsky, Alexis Garcia, Doug Johnson, Kait Lavinder, Laura Lee, Rachel Lippmann, Regina McCombs, Emily Nelson and Jim Zarroli.
"Clearly not quite getting the Memorial Day message, a handful of Houston viewers this weekend chastised ABC O&O KTRK anchor Mayra Moreno for using two words apparently considered un-American in some circles, even in the Hispanic-heavy market: Buenos dias," Diana Marszalek reported Tuesday for Broadcasting & Cable. "Moreno adeptly handled the situation in this post on her Facebook page. . . ."
"Egyptian prosecutors on Monday ordered the head of the journalists union and two board members to be tried on charges of harboring colleagues wanted by the law, judicial sources said, a move that drew condemnation from rights groups," Mohamed Abdellah, Haitham Ahmed and Lin Noueihed reported Monday for Reuters.
"Amie Ferris-Rotman has spent years of her journalism career working as a foreign correspondent," the Future of News reported (video). "So when the London-based reporter refers to the press' habit of parachuting white, mostly male reporters into developing countries as 'a bit faded' and 'old-fashioned in its approach,' it's obvious that she means it. . . . Sahar Speaks is Ferris-Rotman's answer to the sad fact that Afghan women are severely underrepresented in the media both locally and internationally. . . ."
"A fresh photo of a Japanese journalist who went missing in Syria last year has emerged online, showing the heavily bearded man holding a sign saying this is his 'last chance,' Agence France-Presse reported on Monday. "The photo, which received widespread coverage in Japanese media Monday, shows freelance journalist Jumpei Yasuda, who has been missing for almost a year, wearing an orange shirt, his hair and beard grown long. . . ."
"Ideally, an attack by a foreign diplomat on Uganda should be frowned upon by any patriotic Ugandan; but Observer political editor Edris Kiggundu today reveals how a rant by an American official gave one journalist a very sensitive job in State House," the Observer in Kampala, the capital, reported Friday. Kiggundu reported that "Samantha Power, the US permanent representative to the UN, savaged President [Yoweri] Museveni, describing him as a threat to the stability of Uganda and the region." Don Wanyama, a former managing editor at Daily Monitor, wrote an article defending and was rewarded with a post supervising Museveni's media operations.
Richard Prince's Journal-isms originates from Washington. It began in print before most of us knew what the internet was, and it would like to be referred to as a "column." Any views expressed in the column are those of the person or organization quoted and not those of any other entity.
Send tips, comments and concerns to Richard Prince at journal-isms-owner@yahoogroups.com.
To be notified of new columns, contact journal-isms-subscribe@yahoogroups.com and tell us who you are.