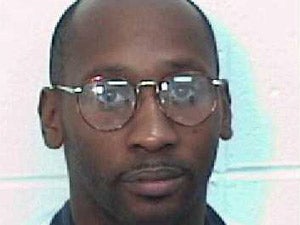 The Seattle Times is reporting that the Supreme Court has rejected an appeal from Georgia death row inmate Troy Davis, clearing the way for the state to resume planning Davis' execution.
The justices on Monday refused to order the federal appeals court in Atlanta to examine Davis' case, and they declined to do so themselves. In 2009 the high court ordered a federal judge to examine evidence that Davis said would show he was innocent of the 1989 killing for which he has been sentenced to death.
Davis is on death row for killing officer Mark Allen MacPhail, who was off duty. MacPhail, 27, was shot multiple times after he responded to a homeless man being pistol-whipped in a Burger King parking lot. Davis' claims of innocence have yielded international attention, with former President Jimmy Carter and Pope Benedict XVI saying that he should not be executed. Executions are currently on hold in Georgia because federal agents have seized the state's supply of a key lethal-injection drug.
The death penalty should be on hold for many more reasons than federal agents' seizing the drug. Davis has had more chances than many others to prove his innocence; just because he can't prove his innocence in the court of law doesn't mean that he isn't innocent. Executing a man who may be innocent will accomplish exactly what? It definitely won't bring back McPhail or offer the justice that his family deserves.
Read more at the Seattle Times.
In other news: Shaka Smart: More Than a Trending Topic.
Like The Root on Facebook. Follow us on Twitter.