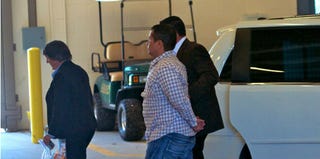 Friday, Feb. 1, 11:05 a.m. EST: Zimmerman defense fund receives more than $5,000: Less than 24 hours after George Zimmerman's attorney, Mark O'Mara, appeared on television to ask for donations to his client's defense fund, the site had collected $5,200 from 160 donors who left comments supporting Zimmerman, the Orlando Sentinel reports. 
Thursday, Jan. 31, 11:14 a.m. EST: Florida Senate leader wants "Stand your ground" tweaks: Florida Senate Democratic Leader Chris Smith said Wednesday that the state's culture of violence calls for changes to the "Stand your ground" self-defense law, WPTV reports. "To put our heads in the sand when it comes to this controversial [law] is wrong," he told a gathering of newspaper editors. But Republican Senate President Don Gaetz, who spoke at the same event, said he won't support any major changes.  
Wednesday, Jan. 30, 7:07 p.m. EST: Zimmerman asks to delay trial: Attorneys for George Zimmerman, the former neighborhood-watch volunteer charged with shooting Trayvon Martin to death, have asked for more time to prepare his case, the Associated Press reports. Their reason? They say prosecutors were slow to turn over the evidence they need for his defense. Attorney Mark O'Mara also reiterated his request for donations to Zimmerman's legal defense fund.
Read last week's updates on the Trayvon Martin case here.
Read all of The Root's news and commentary about the Trayvon Martin case here.