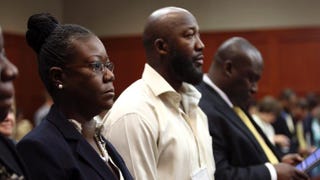 Trayvon Martin's parents, Sybrina Fulton and Tracy Martin, plan to write a book about the life of their son, the unarmed teenager who was shot and killed in Florida in 2012,  the New York Times reports.
They reportedly met with publishers this week to pitch the book, the Times says. They hope the story will paint a fuller portrait of their son's life, and share their own stories of loss.
They were accompanied by their Dallas-based literary agent, Jan Miller, and the meetings were described by those in attendance as "somber and moving," the Times says.
They reportedly said that they have never fully discussed their experience, including the trial of George Zimmerman, who was acquitted this summer in the shooting death of their son. 
Miller did not immediately respond to an email from the Times requesting comment by the time of publication.
Read more at the New York Times.