This is my toiletry case. It doesn't have a name, though it probably should, since we've traveled the world together for years. For now, let's call her Clare—probably Clare the Eighth, at this point. But she's always a simple, clear bucket case measuring approximately 4 by 5 by 8 inches, with a double-zip top, maximizing both Transportation Security Administration-required transparency and capacity, and allowing my liquids to stand when necessary.
Clare and I just returned from a nearly weeklong holiday trip to Minneapolis, which I easily managed with a carry-on (even with a few last-minute presents packed). Prior to takeoff, I documented the contents and gave tips on my packing process, and a few colleagues were impressed by how much I fit into such a small bag—especially with room to spare for Clare. And since advice often inspires more questions, I was asked to write a more detailed follow-up: Specifically, how do I pack my beauty bag?
As previously noted, my role at The Glow Up requires splitting my time between my current home in Chicago and my work home in New York. In fact, I just wrapped a seven-week stay, which included being in the office almost daily; attending The Root 100 gala, numerous business lunches, dinners and gatherings; as well as Thanksgiving, my godson's birthday and a series of holiday parties. In short, it was a lot of look—I am a beauty and fashion editor, after all—but I navigated the bulk of it with two average-sized cases and a very well-curated Clare onboard. How do I do it?
G/O Media may get a commission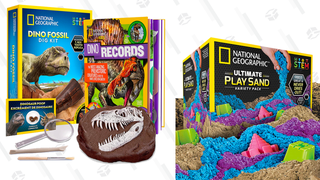 Up to 33% off
National Geographic Science and Activity Kits
Play It Safe 
I'm no minimalist. I'm a collector—of things, people, experiences and definitely makeup. Tidying guru Marie Kondo would likely be paralyzed by the sheer volume of product I possess.
That said, as much as I love to play with makeup, I'm clear on the fact that traveling is not the time. Instead, I focus on my fail-safes—products I know will keep me looking polished throughout my stay. When packing, space is a splurge, so it's important to fill it wisely.
Prioritize Moisturizing
Between air travel, forced heat and the season, lotion is a nonnegotiable for me, which is why I'm willing to concede precious space to a full 3-ounce tube—this is a head-to-toe affair! My current fave is Vaseline Intensive Care's Cocoa Radiant lotion, which is rich enough to feel luxurious but is a pennies-on-the-dollar amount of a luxury product. Since I love to slather it on, cost per wear is important. Similarly, I strictly cleanse with oil on the road and make space for balms, serums and creams, because all makeup looks better on well-hydrated skin.
Think Small
A glance at Sephora's "Mini Size" section is all you need to confirm that on-the-go beauty has advanced far beyond "trial-sized." There are scaled-down versions of almost everything—from Nars' cult-favorite concealer to Crème de la Mer (at $85 per half-ounce). I especially find mini mascaras handy, since aside from taking up less space, you avoid the inevitable dry-out that happens with full-sized options, allowing you to use all of your product.
On that note, traveling is an ideal time to use your samples. For instance, I'm never without a packet or two of Kiehl's Epidermal Re-Texturing Micro-Dermabrasion—I ask for them when I buy full-sized versions. (Pro-tip: Instead of ripping them open, prick sample packets with a safety pin to keep product fresh for multiple uses.) Similarly, why bring bottles of shampoo and conditioner when a few conditioner or protein packs easily slide into the side of your kit, and are perfect for a quick co-wash or two?
Act Like an Artist
If you absolutely must bring an array of shadows, make sure they're in palette form. Palettes not only provide maximum variety in minimum space, but the packaging often provides an instant buffer—and mirror—while packing as flat as a checkbook (remember those?). My current favorites? The Prism holiday eye shadow palette from Anastasia Beverly Hills features 14 shades of classic mattes, shimmery metallics and jewel tones—with a dual-ended, high-quality brush—while the Balm's How 'Bout Them Apples? palette has a half-dozen cream blushes that easily layer for a freshly flushed look (Bobbi Brown also makes a great multipurpose Pot Rouge in Chocolate Cherry.)
As for brushes? I have a few tricks up my sleeve that eradicate the need for them altogether (face painting, anyone?). But when I decide to bring my tools, a brush roll is my go-to for both protection and organization.

Try New Textures
I love playing with powders but keep them to a minimum when packing my kit—one broken eye shadow can mean hours of cleanup. Instead I rely on creams, pencils and pens to create my signature day-to-night look: a subtly bronzed smoky eye with a little highlight, blush, and nude or red lip. Just a few swipes of an eye shadow stick or Fenty Match Stix and a smudge from my (clean) finger, and I'm good to go (I actually use this technique at home, too).
I'm partial to the creamy textures and variety of colors available from Maybelline Eyestudio Color Tattoo Concentrated Crayons and NYX Jumbo Eye Pencils, but my absolute faves? Beauty-supply staple Nicka K New York Eye Light Crayon in Brown and Liquid Eyeliner Brush Pen; I buy them by the handful!
Take the Tube
My daily foundations come in glass bottles, which aren't practical for travel—especially because I'm a klutz. To keep both my foundations and skin intact on the road, I use BB and CC creams for daily wear, with a little concealer for extra coverage. Right now I'm doing a trial run with Maybelline Dream Fresh BB Cream, but there are better color ranges available from SheaMoisture, Iman Cosmetics and Black Up.
For concealer, perhaps the best product I've found in the past year is Onomie Bright Concealing Elixir. Don't let the tiny tube fool you; this emollient, super-concentrated formula means just a dab'll do you for months of all-day coverage that also works to brighten the dark circles it conceals. And this newer brand truly caters to all, in shades named after notable women.
So, with all of that covered, what's in my beauty bag?

hand and body lotion
hyaluronic acid serum (trust me on this)
day and night moisturizers
sample-sized mask and exfoliator
acne spot treatment (with salicylic acid)
deep-cleansing oil
BB cream (for extra coverage: Dermablend Flawless Creator Foundation Drops)

cream concealer
cream blush
highlighter sticks (3)
eye shadow pencils (4), eyeliner pen and eyebrow pencil (with brush tip)
mini mascara and clear mascara for brows
nude lipstick (1), nude gloss (1), long-wearing red and violet lip paints (2) (Fun fact: A colleague confessed that she's brought as many as 27 lipsticks on a trip. Trust me, a nude and a perfect red will take you much further.)
translucent powder and kabuki brush
argan oil (for hair and skin)
perfume minis (I love Nest's highly concentrated, layer-friendly formulas.)
mouthwash and toothpaste (and floss, not pictured here)
nude nail polish, quick-dry top coat and nail-polish-remover pads
tweezers, sharpener and travel packet including cotton pads, swabs and file
There you have it—these beauty basics will last me a month or more.
I know what you're thinking: Are you planning to wash your body, Maiysha? Of course I am—though, to be fair, my accommodations generally include soap or body wash. But I'm picky, and admit I did make the last-minute addition of a trial-sized moisturizing body wash—which Clare fit without incident.
On that note, I also always carry a full-sized deodorant in my purse, right next to my umbrella, because a) I inevitably forget to apply it some mornings, and b) travel-sized deodorants usually end with product flying across the room.

And ain't nobody got time for that. It's time to fly!