A few weeks ago, in the buildup of the travesty-shamockery that was the Floyd Mayweather Jr.-vs.-Conor McGregor fight, the great boxing analyst Teddy Atlas was forced to vamp on ESPN as cameras showed a McGregor workout. Although I could listen to Teddy Atlas read a phone book or, even worse, Taylor Swift lyrics, he left me really perplexed for a few seconds when he said, "Floyd is one of the greatest boxers of all time, but we don't know if he is a fighter or not."

When asked to explain, Atlas put it simply: "You judge a boxer by how many people he defeats and Floyd is undefeated. You judge a fighter by what he does after he gets beat ... how they respond when they get knocked out. When a real fighter gets knocked out, they want to get back up and keep fighting."
Shagasyia Diamond is a real fighter.
---
Diamond spent a decade as a transgender woman incarcerated in some of the country's toughest male correctional facilities. After a childhood filled with being shuffled through the foster care system, discrimination and searching for her place in society, most people would have lain down on the canvas and let the world count them out.

But Diamond wouldn't stay down. She got back up. She kept fighting—not only for herself but for women like her. She refused to go back to her corner and throw in the towel. And she is winning, too.
Born in Memphis, Tenn., and raised in Flint, Mich., Diamond was young when she realized that no matter her genitalia, she was a woman: "I am a woman. I have always known it, since I was a child." This realization led to abuse from everyone around her. As a child, she was punished for using women's bathrooms and disciplined for being "too feminine." She was ostracized by family and castigated by her community.
G/O Media may get a commission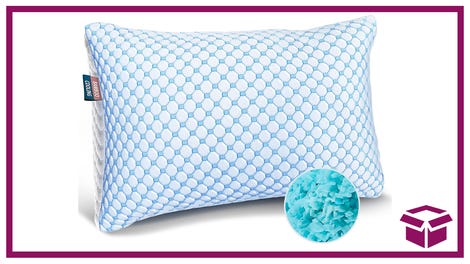 23% off
Nestl Cooling Pillow - Queen Size
When she was 14 years old, suicidal and tired of the treatment she received from her mother, Diamond ran away from home and wound up in Michigan's foster care system. Because of her age and race, in addition to her being a transgender girl, she was shuffled from home to home. Most foster parents prefer younger children, and agencies looked to match black children with black families, leaving Diamond on the outside looking in.
"Sometimes I wouldn't be able to eat," Diamond explained to The Root. "I would come home to a locked refrigerator. ... I would have to beg for food."
Despite the hardships she faced as a transgender teen in the foster care system, Diamond found one positive attribute: At age 14, she began receiving hormone treatments to change her body. The teenager went to a series of counselors, psychiatrists and psychologists, who all agreed she was a perfect candidate for gender reassignment. The insurance that covered her as a ward of the state covered the cost of the hormone treatments.
At 17 years old, Diamond was emancipated and returned to Memphis to start a new life. She kept receiving her hormonal reassignment treatments by working a series of jobs. Her plan was to get full reassignment surgery and embrace the future for which she was always destined.
But life is sometimes a formidable opponent that doesn't always telegraph its punches. When she was 20, health care providers began denying Diamond's access to hormone treatments, forcing her to foot the bill herself. She moved back to Michigan and worked hard to continue the treatments, but the likelihood of saving enough money for reassignment surgery began to dim.
"I was suffering from gender identity disorder and gender dysphoria, so I committed a crime," Diamond said. "I was desperate to have the surgery."
Faced with the possibility of living the rest of her life in a state of perpetual limbo, Diamond committed an armed robbery and received a sentence of five to 20 years.
---
"There's no way to house a female in a male institution, so they considered me a male," Diamond explained. "They determined my gender.
"[However, t]hey saw me as a female. I had been receiving hormones since I was barely a teenager. I had breasts and a woman's body. [But t]hey decided my gender, so I was forced to conform as a male."
Diamond spent a year in a county jail waiting until her 21st birthday, when she could be transferred to a prison for adults. That year was spent in segregation, and even when she was moved to prison, she found herself in single cells, being shuffled between different institutions, much like her earlier experiences in the foster care system.
She explained that existing as a woman inside a male prison was like walking a constant tightrope of physical danger and abuse. "If you don't socialize, you become a target," she said. "But then there are some who befriend you simply for the purpose of taking advantage."
Aside from the danger of simple tasks like showering and navigating abusive correctional officers that the prison sentence presented, it also abruptly ended her hormone treatments, which no medical professional would advise.
After 10 years in various facilities, Diamond was released from prison in 2009. While she was incarcerated, she petitioned to have her name and gender changed on her birth certificate. However, while the information on her birth certificate was changed, authorities would not change her gender on her state ID, and after her release from prison, she was forced to out herself as a trans woman in order to receive financial aid, transportation services and many other services available to her.
Diamond attended college for cosmetology, but after being confronted by an instructor who tried to out her for using the restroom of her choice, she left the school. She found it hard to find housing because she wasn't accepted at shelters designated specifically for men or for women.
Eventually, Diamond decided to relocate to New York and pursue a career as a singer-songwriter after a song she wrote while in prison, "I Am Her," began receiving notice as an anthem for trans women and women everywhere, even being featured by Time magazine.
In New York City, Diamond became an activist and advocate for trans women of color. She uses her platform to speak about the need for recognition of transgender people, especially inside bureaucracies and state-sponsored systems. She is now involved in the Women's Building.
"It's a place for all women, no matter how you identify," Diamond told The Root.
The New York City facility will house women's organizations of all kinds, but what drew Diamond to the project is that the building, located on the West Side of Manhattan, was once a women's prison.
Formerly the Bayview Correctional Facility, the building will be a place for activists, community leaders, nonprofit organizations and even individuals dedicated to the pursuit of women's issues.
Diamond still works as a singer-songwriter while pursuing her goals as an advocate for women. Finally free from the system that shackled her for so many years, Diamond finally completed her gender-reassignment surgery and is focused on helping herself and others.
"The system is designed to break you," she said. "There are broken women everywhere. Our job is to help them heal."