We're finally all coming down from the high that was this year's Met Gala, and Black-ish star Tracee Ellis Ross is no exception. Making an appearance on Conan Thursday night, the always entertaining actress and style maven talked about attending this year's Met Gala, dishing on her own gown and the outfits of several fellow guests.
Admittedly, several of us thought Ellis Ross' hot-pink gown and billowing opera coat, designed by Michael Kors, missed the mark of the evening's theme, "Heavenly Bodies: Fashion and the Catholic Imagination." In fact, many thought she was riffing on the '60s-era style of her diva mama, Diana Ross.
Ellis Ross put that theory to rest by explaining the process of being dressed for the Met Gala red carpet: "You don't get a lot of choice, so you go with the designer, and the designer sort of chooses what you're going to wear with your stylist, and there's all this hubbub and to-do ... "
She also shared the somewhat obscure intent behind the gown's color, which was inspired by Gaudete Sunday, the third Sunday of Advent, during which the liturgical color is rose or violet—the clergy often wears one of these colors to signify the coming joy of Jesus (gaudete is Latin for "joy").
Personally, we think Ellis Ross' look might've translated more religiously in a regal violet (which was noticeably absent from the Met Gala red carpet). Then again, we also suspect Michael Kors simply couldn't resist the opportunity to dress her up like a Supreme.
G/O Media may get a commission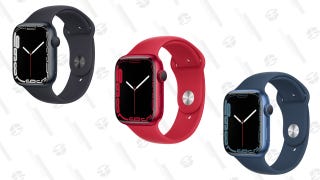 Up To $45 Off
Apple Watch Series 7
But the actress and avowed fashion lover didn't stop there: She and "Coco" (as Conan host Conan O'Brien is affectionately nicknamed) reviewed a few other Met Gala looks, including Katy Perry's winged victory by Versace, Frances McDormand's winged whatever that was by Valentino, and Rihanna's showstopping Maison Margiela confection, designed by John Galliano. Ellis Ross enthusiastically posited that RiRi is the first woman to ever wear the mitre reserved for the (generally all-male) high clergy of the Catholic Church. Sadly she's not, but she did purportedly borrow hers from New York Cardinal Timothy Dolan.
But perhaps the most entertaining anecdote Ellis Ross had to share with the Conan audience involved singer SZA, whose halolike headpiece proved hazardous to get too close to: "We took a selfie together, and I don't know if you can tell, but that beautiful headpiece she [had] on was so sharp on the ends ... in our selfie, she, like, caught on to a tuft of my hair."
Hilariously, in the resulting paparazzi photographs of the two, Ellis Ross appeared to be making an exaggerated couture pose. Turns out she was really just trying to avoid losing an eye.