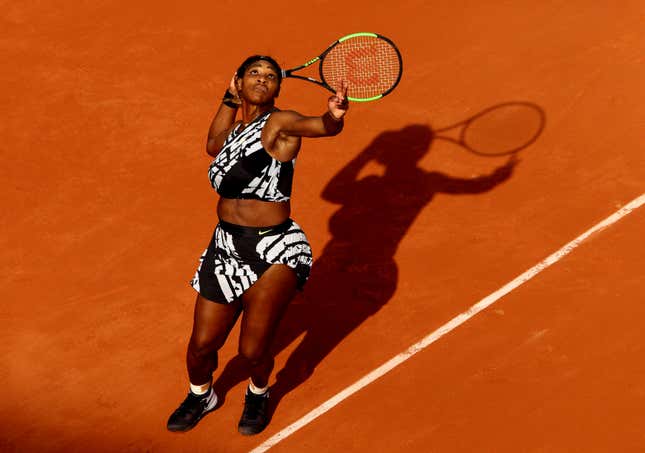 Sometimes, you just gotta let 'em know who they're dealing with.
In the case of tennis legend Serena Williams, she let her clothing do the talking for her, as she made her return to the French Open wearing a black-and-white striped Off-White x Nike trapeze warmup jacket with an allover print of the French words for "Champion," "Queen," "Goddess" and "Mother."
"Dip The Pen In Your Own Blood": How To Find Success As An Author | Securing the Bag: Part 2
Message received, Madame...and we're pretty sure Vitalia Diatchenko received it when you rebounded to defeat her, but we digress.
Memorably, Williams' 2018 French Open appearance became a point of contention, due to another attention-getting outfit. Following the life-threatening delivery of daughter Alexis Olympia and largely inspired by the sleek superhero looks in Black Panther, Williams chose to wear a Nike-designed compression catsuit to stave off blood clots as she attempted yet another Grand Slam last year.
However, the French Tennis Federation wasn't having it; FTF President Bernard Giudicelli issued a mandate against any future catsuits or compression shorts, stating, "It will no longer be accepted. One must respect the game and the place."
Clearly, Serena will give respect where respect is given—and she, the First of Her Name, The Unparalleled, Queen of the Clay, the Concrete and the Grass, Queen of Nike, Khaleesi of the Great Grand Slam, Protector of the Net, Lady Regent of the Seven Serves, Breaker of Records and Mother of Olympia—did not come to play with you heaux.
But as the New York Times reported, the not-so-subtle messaging on Williams' jacket—for which Virgil Abloh also designed a coordinating tennis skirt and crop top and, the pièce de résistance, a dramatic tiered maxi skirt with a thigh-high slit—wasn't for her benefit, alone.
"Those are things that mean a lot to me and reminders for me and for everyone that wants to wear it," Williams told the Times. "Just remind everyone that they can be champions and are queens. So I love that about it.

"It is a lot to carry, but so is being Serena Williams," she added.
Again, message received.
Williams also gave a nod to her mid-match switch-up to a simple, long-sleeved black Nike top, saying, "I just needed to change. I was like: 'I've got to try something different. It's not my forehand, it's my clothes; right?'"
"It makes no sense," she admitted of her quirky habit. "So it's all in my head."

Whatever it was, it worked, helping Williams pull out a late-stage victory against Diatchenko after struggling the first two sets. Another late-stage victory she addressed? Nike's decision to better accommodate their sponsored female athletes during pregnancy and postpartum.
"It started with making a statement with me, and they said they want to make a change," Williams said. "They want to support women that want to have families and that want to be moms. I'm glad that statement was made. ...That's what it's about. It's about learning from mistakes and doing better."
Did you get that message, FTF? Do better.