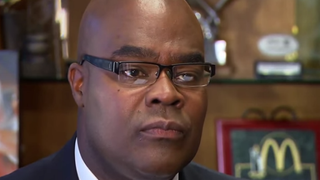 Don Thompson, the 51-year-old CEO of McDonald's, is stepping down on March 1, according to CNBC. The transition comes amid reports that the "world's biggest restaurant chain" is trying to revamp its U.S. operations after closing out a financial period that was "tumultuous," the financial news site explained.
"McDonald's stock is nearly flat during Thompson's tenure as CEO," CNBC reported, saying that in 2014, an important sales metric  "rose just 0.2 percent"—a clear sign of trouble.   
Thompson's stint as CEO was impactful and yet fairly brief. Thompson, who assumed the position in July 2012, was one of the few African-American executives at the helm of a Fortune 500 company. He was previously the corporation's chief operating officer. Thompson came to work at McDonald's in the early 1990s as an engineer. 
In addition to its bottom line, the fast-food franchise has had a problem with the public's perception of its products. In addition to "stressing the quality of its food to consumers" as one of its primary goals moving forward, CNBC found that McDonald's is also hoping to make logistical changes to its menu, like doing away with some of the items in order to make the menu more efficient, and also creating a "build-your-own sandwich" vertical to give consumers more options.
Also notable during Thompson's tenure: a group of African-American former employees of a McDonald's franchisee in Virginia filed a civil rights lawsuit in May 2014 claiming that they were mistreated and fired because of their race. Ten former employees said that when they communicated their concerns to McDonald's corporate headquarters, they were told that the issue should be taken up with the franchisee. 
McDonald's chief brand officer, Steve Easterbrook, will take Thompson's place as CEO.
Read more at CNBC.