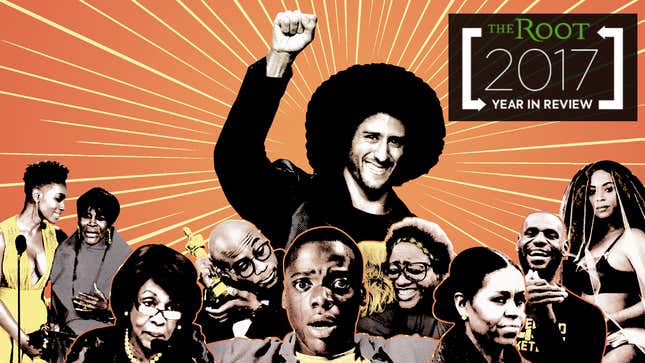 2017 has been, how do I put this succinctly, a fucking shit year.

From the plagues of biblical proportions that this administration keeps trying to drop on us to the fact that Mother Nature is sick of the bullshit and has been trying to finally kill us all via hurricane, 2017 has not been skimpy on Ls at all.
Terry Crews Talks AGT, Hidden Talents, & Falling For A White Chick
That said, there was still joy to be had in 2017, and there were wins made by black people.
So, without further ado, I present to you 10 amazing moments (in no particular order) black people won in 2017:
1. Maxine Waters: Breaker of Chains, Reclaimer of Time
After having to suffer the devastating dishonor of having an orange buffoon in the White House, black people have pretty much been fed up since before 2017. And no person illustrated this "fed-uppedness" more than longtime career politician Rep. Maxine Waters.

Madame Waters (D-Calif.) was, quite frankly, the mood of 2017. From her hilarious and biting tweets to her determination to see Donald Trump impeached, she simply had no fucks to give. And the greatest example of this was when her legitimate question about 45's financial ties to Russia was interrupted by wayward Caucasian American Steven Mnuchin. The deflection did not deter her and she instead repeated "Reclaiming my time" over and over again until he eventually shut the fuck up.
She's a boss. You know it. I know it. And 2017 knew it.
2. Michelle Obama and the Side Eye Seen't Around the World
Much despair was felt through the force when it was announced that Agent Orange was gonna waltz his baked-Cheeto, dusty ass into the White House. And while that was bad enough, most of us couldn't stop thinking about how little time we had left to spend with the Obamas. So imagine our surprise when Michelle Obama gifted us with enough side eye during Inauguration Day to help us power through the rest of 2017.
Yes, before she would walk into the sunset with her beloved Barack and say goodbye to us forever, our good sis Michelle gave the best side eye ever after getting a gift from Melania and listening to all the Inauguration Day malarkey.
It was her final act as first lady. And what an act it was.
3. Anika Noni Rose Lovingly Encouraging Cicely Tyson at the Emmys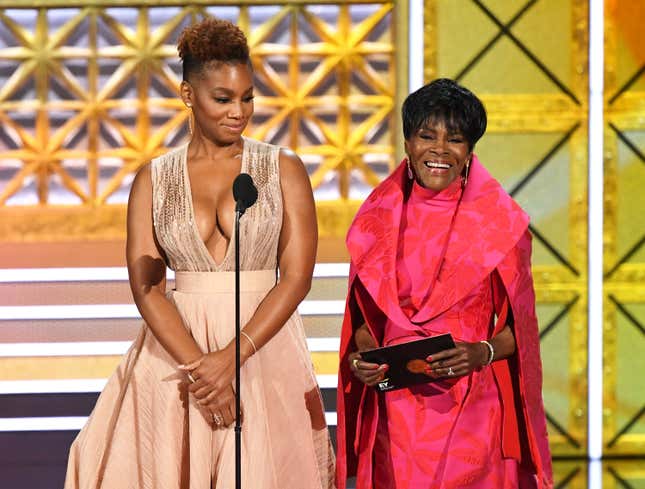 I have a love-hate relationship with the Emmys, mostly based on how Caucasian the nomination lineups are for the night. However, I luckily caught a few moments from the 2017 Emmys. And I'm glad I did because had I not, I would have missed one of the greatest moments in Black Girl Magic history.

The moment includes both Anika Noni Rose and Cicely Tyson going up to announce the winner for Outstanding Limited Series. The immortal Tyson paused right before recalling her role in Roots, and instead of awkwardly standing there until Tyson remembered, Rose leaned over and whispered an encouragement in Tyson's ears.

It was one of the simplest yet greatest acts of black sisterhood and solidarity that I had seen in a while. And in a year that was as brutal as 2017, it was sorely needed.

4. World Stop: Beyoncé's Pregnancy Announcement
Greatness begets greatness. I don't know who said that, and I don't care to ask, but just know that it has been and always will be applied to Her Majesty King Beyoncé, First and Only of Her Name.
After having a fantastic year in 2016, Beyoncé blew our black minds when she surprise-announced her pregnancy on Instagram with the radiance and grace of a black Madonna. And while gracing us with her otherworldliness, she managed to piss off white women and white conservatives and inspire low-budget Great Value copycats in one wild swoop.
Never change, Bey. Never change.
5. Black Twitter Gathering Kendall Jenner's Edges Over That Pepsi Commercial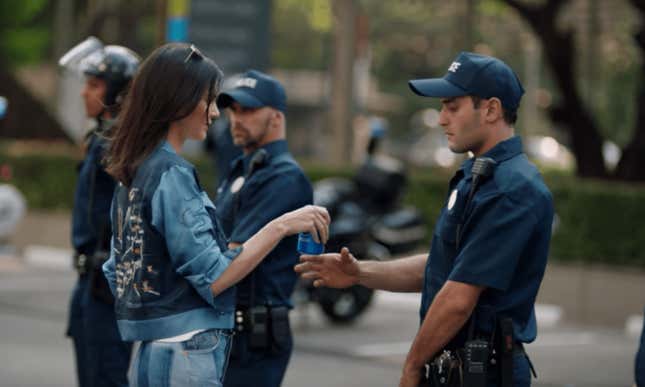 Plenty of black folx had a fantastic year. Cardi B had a fantastic year. Issa Rae had a phenomenal year. Rihanna had a spectacular year. New Edition had an amazing year. And Tiffany Haddish had an astounding year.

The list of black people laughing in the face of 2017 is very long. But such a list would be incomplete without the collective that is Black Twitter.
Black Twitter has been a respected entity for a while now. But it truly cemented itself as a cultural force for change when it single-handedly got Kendall Jenner's tone-deaf-ass Pepsi commercial yoinked from the TV airwaves. Indeed, Jenner thought she was doing all of us a favor by throwing some dusty Party City wig at a fellow sista in the commercial (an apt self-dragging of white feminism) before hijacking black and brown traditions of protest, and Black Twitter, of course, said, "Not today, Satan."

Combine this with other cultural moments like spurring on (along with Black Tumblr) Netflix to make that Rihanna-Lupita Nyong'o Heist movie, penned by Issa Rae and directed by Ava DuVernay, a reality and exposing the hell out of Keaton Jones' white supremacist family, and it is very clear that Black Twitter is here to stay and suffers no fools.
6. Black Women in Alabama Telling Roy Moore, "You Thought!"
You probably notice how I keep mentioning that 2017 was a tough-ass year. This is most certainly true, especially politically.
Since the Over-Inflated Tangerine was voted into office by white women, it's been a yearlong battle to make sure that our legislators, quite frankly, do not kill us. This has been true concerning the Affordable Care Act, the GOP tax plan, net neutrality and so much more. So you can say, politically, we really needed a win.
And black women gave us exactly that in the election battle between Roy Moore and Doug Jones for a U.S. Senate seat representing Alabama.
The choice was between an accused child-molesting, homophobic bigot and a Democrat, Doug Jones, and white people almost purposely screwed the pooch again by voting in the alleged child molester because he was "closer to God" (cue an eye roll). Of course, black women did not allow this to pass.
It was a nod to the 94 percent who showed us they had common sense during the general election, and it proved that, yes, even states like Alabama (where black people live, too, Bernie Sanders) can have competitive elections if given the fucking chance.
Black women, I salute you. Truly.
7. It Ain't Over Till It's Over: Moonlight
In that same vein, 2017 must have been the year of "Hold up, wait a minute," because not only did black people pull off the upset in Alabama this year, but we managed to pull it off during Oscar season, too.
Earlier this year, La La Land was heavily projected to win the Oscar for Best Picture over Moonlight, and despite all the queer black people everywhere giving Goku our energy for a spirit bomb, it looked like La La Land would indeed win. And that much was confirmed when B(La)h B(La)h Land was crowned winner.
That is ... until it was un-crowned.
In one of the most confusing moments of 2017, La La Land producer Jordan Horowitz snatched the card from the dazed and confused presenter and clarified that it was Moonlight that had actually won Best Picture. I'm always gonna wonder who I need to drag for low-key stealing Moonlight's moment, but this should be a lesson to us as a people that it is not over until we say it's over.
8. Colin Kaepernick Has the Last Laugh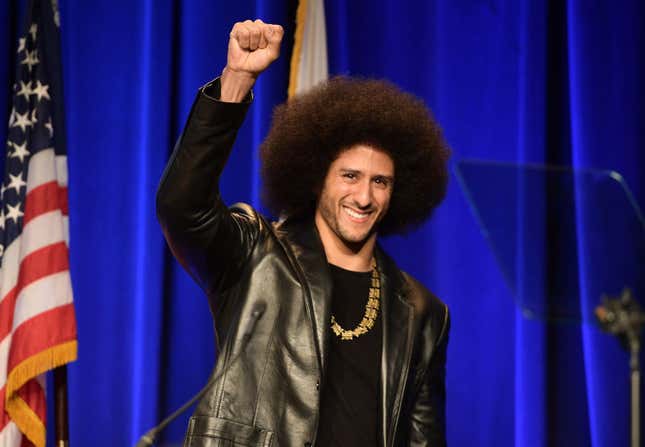 Colin Kaepernick's long, hard-fought battle to call out police brutality and systemic injustice started out in 2016 when he, a San Francisco 49ers quarterback at the time, sat down during the playing of the national anthem at a preseason game versus the Green Bay Packers.

Since then, the football player and activist has been the center of an intense, national debate on racial and social injustice, and because he continued to walk and talk the talk, the powers that be decided that Kaepernick would enter the year as an unsigned free agent, despite being more talented than plenty of other current quarterbacks (*stares at Jay Cutler*).

And these racist NFL owners probably had a good chuckle over it all ... until it was announced that Kaepernick was suing the shit out of all of them, of course.
Not only did Kaepernick decide to bring a case against them, but he also went on to become GQ's Citizen of the Year, and he's currently mulling over the prospect of maybe owning the Carolina Panthers alongside Diddy and Steph Curry.
Clearly, Kaepernick is just getting started.
9. Black People Do Do Horror: On Get Out Being a Success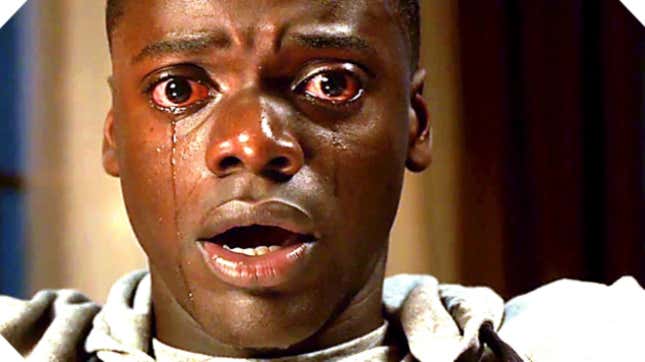 In times of trial and tribulation, black art has risen like a phoenix and thrived in the face of uncertainty, and Get Out was certainly not an exception this year.

Jordan Peele's directorial debut and smash hit changed the game forever this year.
Not only did it make bank with a film budget that sounded like the movie-producing equivalent of $3, but its biting social commentary on racial relations in America presented in the horror genre reminded us of how multifaceted black people are and how it's about damn time that black creatives get to flex our muscles in genre movies (another great example of this is Dee Rees' Mudbound, which no doubt counts as a Western/period piece).

And not even the Golden Globes' outdated genre system can take this win away from us.
10. LeBron James Calling Donald Trump by His Name: "Bum"
In the year when white people continued to show their asses and black people made a conscious and collective decision to stop giving a singular fuck, no such person illustrated this big mood quite like LeBron R. James.
James, a three-time NBA champ, has proved time and time again that he doesn't concern himself with the opinions of sheep, but he took this attitude to the next level when the Expired Squash got in his Twitter feelings about Steph Curry and the Golden State Warriors' declining his booty-ass invite to visit the White (Supremacist) House.
Trump was about five more seconds from going full Mean Girls on Curry (which included uninviting them) when James became sick of the bullshit and fired off the tweet heard around the world:
He called 45 a "bum."
The legendary tweet is still on James' Twitter page. To this day. And I am hoping that it continues to serve as a visible reminder that black people from all walks of life are never too busy to speak truth to power and call a spade a spade. All while having a good and necessary laugh.
And that's that on that.