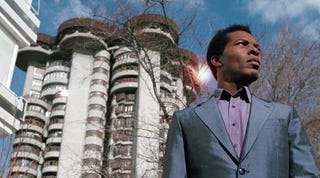 Director Jim Jarmusch's latest film, The Limits of Control, is a confection of weirdness and camp with a sprinkling of brilliance, and that turns out to be not enough. There is a plot outline, but no real plot. And while there is a first-rate cast, some of whom have previously worked with Jarmusch on some of his classics, including Night on Earth, Coffee and Cigarettes and Broken Flowers, the characters they portray in this film seem disconnected at best and often completely unhinged.
Jarmusch's films have always been part brilliant, part quirky, but in Limits of Control, the parts don't add up to a sufficient whole. The story, such as it is, revolves around a mysterious "Lone Man," who may or may not be a contract killer. He travels from place to place meeting with contacts, refusing to consummate the attraction between him and an ever-present nude beauty (Paz de la Huerta), and trading matchboxes with notes in them. He eats the notes once he reads them.
The sprinkling of brilliance is in the casting of Ivorian actor Isaach De Bankolé as the stoic would-be-assassin, and the gorgeous Spanish locations, including Madrid, Seville and Almeria are backdrops. Bankolé, who has appeared in several Jarmusch films, including Ghost Dog: The Way of The Samurai, which starred Forest Whitaker as a hit man, is perfectly suited to play a short-on-words character with a can't-take-your eyes-off-him presence.
After seeing Bankolé in the really strange and really bad film How to Make Love to a Negro Without Getting Tired, a female friend declared him "the finest man" on the planet. In the past, he has been a standout bit player in Jarmusch films—one of the cabbies in the energizing Night on Earth and as the ice cream truck vendor who befriends Whitaker in the classical Ghost Dog. In Limits of Control, the mesmerizing good looks, particularly the impossibly elevated cheekbones, are still there, but in this lead role, he isn't given much to work with.
Neither are other distinguished Jarmusch alumni such as Bill Murray and Tilda Swinton (both were in Broken Flowers) or talents such as John Hurt and Gael Garcia Bernal. There are running themes and lines, which may or may not be running jokes. "Usted no hables Español, verdad?" "You don't speak Spanish, right?" He is asked that by everyone he meets. They then break in to English. He says no each time, but you get the feeling he is messing with them. There are also the flashy designer suits he wears more as costumes than as clothing, which appear to come from nowhere.
There is a heavy dose of allegory and magic realism in the film. But it doesn't rise to the level of even a middling Gabriel Garcia Marquez short story. Much is lost in translation—pun intended. When the shooter finally corners his prey in a panic room in a fortress guarded by heavily armed men, he is asked how he got in. "I used my imagination," he responds.
I used mine, and I still didn't get it.
Nick Charles is a regular contributor to The Root.