Every year, Time magazine drops its "100 Most Influential People" list, and it always includes some heavy hitters. This year is definitely no exception. From entertainers to politicians, the 2015 list has touched all bases when it comes to the many areas Time has covered. The list is broken down into five categories: Titans, Pioneers, Artists, Leaders and Icons. This year's list includes 16 black people who are trailblazers in their perspective fields. Each profile was written by a notable and succinctly captures why the person was chosen by Time.
Titans
No one can deny the fact that West has made an impact on the world of music. And no one can deny the fact that West already considered himself a titan, even before being given the honor by Time. "He's not afraid of being judged or ridiculed in the process. Kanye's been playing the long game all along, and we're only just beginning to see why," wrote Elon Musk, CEO of SpaceX and Tesla Motors.
She's a financial whiz and president of Ariel Investments and, as former New Jersey Sen. Bill Bradley put it, "has a deep commitment to improving financial literacy among moderate- and low-income Americans."
G/O Media may get a commission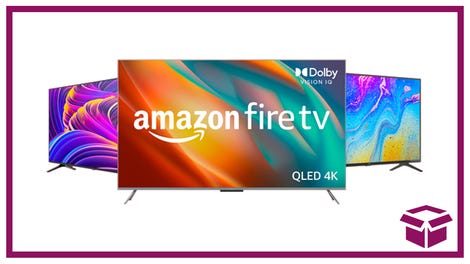 Ooh. stunning.
New Amazon Fire TVs
His empire continues to grow, and with people like Oprah Winfrey in his corner, the sky's the limit. "His eyes and ears are attuned to nuance. He knows how to rattle the nerves of the zeitgeist. He is an undeniable, singular voice, the likes of which we've rarely seen," Winfrey wrote about the director.
Pioneers
Copeland has pirouetted into people's hearts and has made history while doing so. This year she became the first black ballerina to dance Swan Lake. It was quite apropos that Copeland's childhood inspiration, gymnast Nadia Comaneci, penned Copeland's piece for Time. "Misty proves that success is not about how you grow up or the color of your skin. Her story—of overcoming personal and physical challenges to become a soloist at the American Ballet Theatre—is the story of someone who followed her dreams and refused to give up. In that way, she is a model for all young girls," Comaneci wrote.
Stevenson is founder and executive director of the Equal Justice Initiative and a professor at New York University School of Law. His work challenging bias against the poor and minorities in the criminal-justice system is definitely pioneering. Tennis champion Serena Williams applauded Stevenson's work in the justice system. "It is Bryan's belief that every person is more than the worst thing they've ever done, which is a lesson to so many that forgiveness is a necessary means to achieving equality for all," Williams wrote.
Jones is a pioneer in the field of education. She is Teach for America's executive director in New Orleans and is also a member of Louisiana's Board of Education. Aspen Institute CEO Walter Isaacson described her as "one of the critical engines of innovation" in post-Katrina New Orleans.

As an advocate for transgender people, Cox is more than her role on Orange Is the New Black. She has inspired countless others, including Jazz Jennings, a 14-year-old transgender advocate for girls. "Not all trans kids are so lucky. And for them, having someone as visible and strong as Laverne Cox to look up to is inspiring. She's done so many amazing things—not just acting on Orange Is the New Black but also loving herself enough to share her story with the world. She's a pioneer for our community," Jennings wrote about Cox.
Artists
Ofili is a British-Nigerian artist who rose to fame for his paintings and the use of social issues in his work. Ofili, who now lives in Trinidad, was the recipient of the Turner Prize and represented Britain at the Venice Biennale. Architect David Adjaye said his "intoxicating visual compositions … enable us to make sense of our world."

McDonald has won more Tony Awards than any other Broadway performer. Most recently she starred as Billie Holiday in Lady Day at Emerson's Bar & Grill. And as singer Carrie Underwood put it, "These are just a few words that describe the incomparable Audra McDonald. She has acted on television and in movies, graced theater and concert stages and given a gift to countless fans with a voice that I can only describe as being blessed by God."
Hart may be small in stature, but he's big when it comes to his comedic talents. Currently starring in the No. 1 comedy in America, Hart is proving that persistence is the key. As fellow comedian Chris Rock wrote, he's sitting at the big-boy's table now.
Adichie, author of Half of a Yellow Sun and Americanah, is more than just a writer. She's an advocate, a TEDx speaker and MacArthur "genius" grant recipient. The Nigerian writer's ability to weave powerful narratives and create colorful characters in her books only solidifies the fact that she's a force to be reckoned with, Time's deputy managing editor, Radhika Jones, said.

Leaders
Now at the tail end of his presidency, Obama's legacy will be one that will be told to generations to come. From job growth to universal health care, Time's political editor Joe Klein wrote, his presidency has been far from perfect, but "the president of the United States is always, potentially, the most influential person in the world."
Earlier this month, Buhari defeated Nigeria's President Goodluck Jonathan by more than 2 million votes in that nation's presidential election. As Time's Africa bureau chief Aryn Baker said, Buhari has a lot of work ahead of him, including dealing with Boko Haram and fixing a corrupt government.
When Boko Haram kidnapped hundreds of schoolgirls last year, Ezekwesili was instrumental in starting the viral #BringBackOurGirls campaign on social media. A year later, Ezekwesili is still advocating for the girls about whom many may have forgotten, and uses her experience as a former minister of education to do so, said Sister Rosemary Nyirumbe, who runs a school in Uganda for former Lord's Resistance Army captives.

Shekau is considered the most violent killer in Nigeria and the head of Boko Haram, and it's ironic that he's included on the same list as Obiageli Ezekwesili. Shekau has spearheaded the kidnappings of hundreds of students and some say is responsible for 10,000 murders. Gen. Carter Ham (U.S. Army, retired) referred to him as the scourge of Africa.
Icons
Brown looked Ebola in its face and defeated the deadly disease. As medical director of the Eternal Love Winning Africa Hospital in Monrovia, Liberia, Brown is the epitome of an icon. His work continues to save lives, and as actor Idris Elba eloquently put it, "It is because of this man's actions—rather than his words—that many lives were saved."