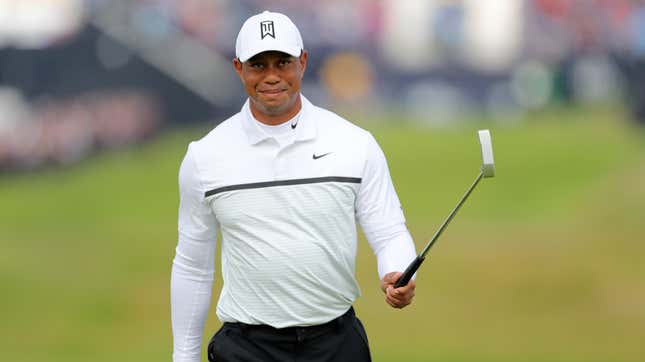 It seems like a domestic dispute between Tiger Woods and an ex-girlfriend has made its way into court. Woods allegedly left her last year and supposedly had her locked out of the mansion they shared on the Treasure Coast, located in Florida. The first lawsuit was filed back in October, but was not previously reported until Wednesday.
Comedian London Hughes Talks New Book, Parents Watching Her Very Sexual Comedy, & Beyoncé
USA TODAY Sports managed to obtain court records which reveal that Woods' former flame, Erica Herman, is filing a lawsuit against a homestead trust he has control over in Hobe Sound, Florida. Herman is claiming damages of more than $30 million. In addition, she stated that the trust and its agents misappropriated $40,000 cash that was hers.
She also said they made "scurrilous and defamatory allegations how she obtained the money." The lawsuit said that Herman had an "oral tenancy agreement" to stay living in the home for five more years after being in effect for six years before the split.
The records read: "The duties that were performed by, and expected of, Plaintiff were extensive and of an extraordinary nature in light of the overall circumstances and environment in which she lived."
In addition, Herman sued Woods and requested the court to release her from her non-disclosure agreement with Woods that goes back to 2017. She insisted that it is not enforceable under the federal Speak Out Act, which forbids the judicial enforceability of agreements like that in disputes regarding harassment or sexual assault.
According to court records filed by the trust, Woods established the trust in 2017. Its only possible beneficiaries are Woods and his children. A portion of the paperwork explains:
"Ms. Herman was invited to live in the Residence while she was in a relationship with her former boyfriend, Eldrick (Tiger) Woods, who continues to live in the Residence with his two children. After Mr. Woods recently terminated the relationship, Ms. Herman was advised that she was no longer welcome in the Residence."
Both parties refused to comment to USA TODAY Sports when asked about the ongoing legal procedure.