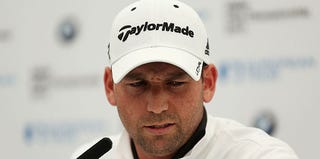 When Spanish golfer Sergio Garcia joked that he'd serve Tiger Woods "fried chicken" for dinner earlier this week, he probably didn't realize that the quip could cost him his TaylorMade sponsorship, reports the Daily Mail.
The Spaniard's … abject apology for a remark that carries racist overtones — fried chicken is stereotypically a food associated with African Americans — might not save his £5million-a-year deal withTaylorMade.

Woods condemned the comment, but later sent a follow-up tweet to accept Garcia's apology and expressed his desire to move on.

A company statement said: 'Sergio Garcia's comment was offensive and in no way aligns with our values and corporate culture. We discussed with Sergio that his comments are clearly out of bounds and we are continuing to review the matter.'
Read more at the Daily Mail.