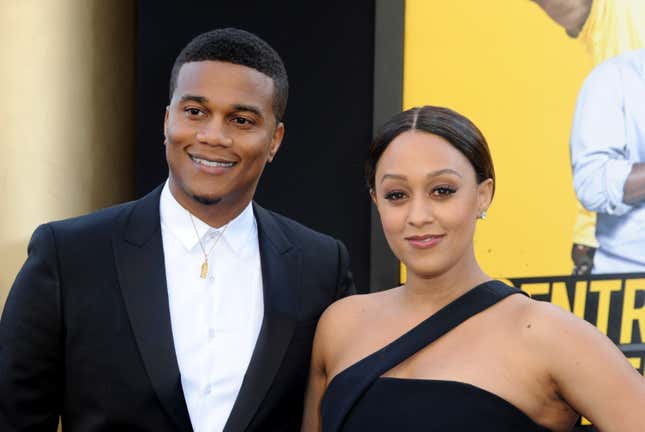 Celebrity divorces can often get ugly, especially when kids are involved. All you have to do is look at Brad and Angelina, Usher and Tameka Foster, and Halle Berry and Gabriel Aubry to see what can happen when custody battles go off the rails. But actress Tia Mowry and her now ex-husband Cory Hardrict are showing the world that stars can actually have an amicable split and act in their kids' best interest.
Marlon Wayans Sings The White Chicks Anthem, Talks The Daily Show on That's So Random
According to court documents recently obtained by PEOPLE, Mowry and Hardrict have agreed to share legal and physical custody of their two children, son Cree, 11, and daughter Cairo, 5. And in an effort to keep things as healthy as possible, they also set parameters around when they will allow the kids to meet anyone either of them gets involved with romantically in the future. How's that for boundaries?
"Absent agreement to the contrary, each party is restrained from introducing the minor children to a new romantic partner until that party has been in an exclusive relationship with the romantic partner for at least six months," the document read. "Each party is further restrained from permitting his or her new romantic partner from spending overnights when the minor children are with that custodial parent during the first six months of the exclusive relationship."
Mowry first shared the news of her split from Hardrict in a post on Instagram last October, promising to maintain a friendship and healthy co-parenting relationship with her ex.
"I have always been honest with my fans, and today is no different," Mowry wrote. "I wanted to share that Cory and I have decided to go our separate ways. These decisions are never easy, and not without sadness. We will maintain a friendship as we co-parent our beautiful children. I am grateful for all the happy times we had together and want to thank my friends, family and fans for your love and support as we start this new chapter moving forward in our lives."