Narvie J. Harris Traditional Theme School in Decatur, Ga., has some explaining to do.
The DeKalb County elementary school is facing significant backlash as the result of a display that outlined "appropriate" and "inappropriate" hairstyles for its students. The glaring issue, aside from discussing with parents individually? All of the children pictured (though identity-protected by Post-It notes) were black, as is most of the school's population.
Duluth, Ga., beauty salon owner Danay Wadlington was made aware of the offending display by an unidentified client who is also a Harris Theme School parent. Wadlington subsequently posted the photo shared with her to Facebook with the following caption:
"🧐🤔🤔Wowzers....so that's how y'all feel Dekalb County Schools?...Hair is a form of self-expression, shouldn't be a right or wrong way.."
As reported by NBC News:
The children's faces were shielded by yellow Post-It notes. It is unclear if they were students at the school, which has a student body that is almost entirely black.

"It wouldn't have been so bad had they included other races, but the fact that those are all little black faces and those are traditional black hairstyles, makes it worse," Wadlington said. "They already have them wearing uniforms, why not let them have some individuality with their hair."
G/O Media may get a commission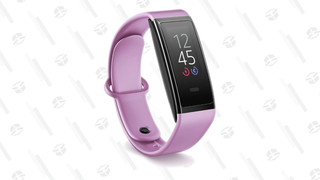 44% Off
Amazon Halo View Fitness Tracker
Though the display has since been removed, among the supposedly offending styles were braided and barrette-adorned styles for girls, as well as any razored designs in boys' hairstyles; in fact, it appeared that only closely cropped fades were considered acceptable at Narvie J. Harris
In an essay on the issue [h/t NBC], Atlanta educator Jason Allen specifically pointed out the "systematic bias against black boys," writing, "This type of display of cultural insensitivity is due to a lack of oversight, accountability, professional decorum and quite frankly, care and concern for the social and emotional impact of black children by this school's leadership and PTA...Imagine being a black boy greeted by this."
It is unknown who created the display, but obviously, this controversy comes during an era in which legislators across the country are working to legally destigmatize natural hair textures and ethnic styles. While the Dekalb County school district didn't respond to NBC's requests for comment on the aforementioned display, officials reportedly issued a statement to the Atlanta Journal-Constitution:
"The images depicted in this post in no way reflect a policy regarding appearance," the statement read. "This was a miscommunication at the school level and is being handled by school leadership. Nontraditional schools at (the DeKalb County School District) sometimes have the option to enforce dress code and style standards."
What they should not have the option to do is stigmatize cultural expression.