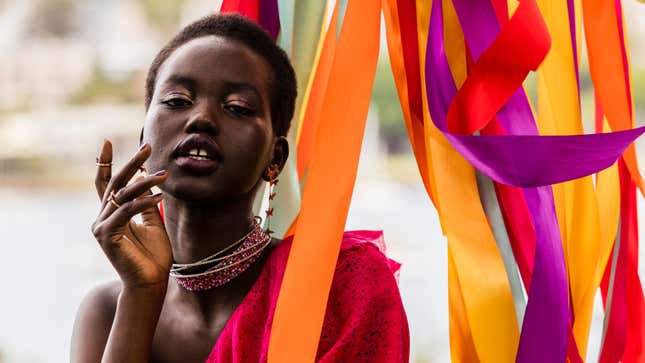 She has opened and closed runway shows for Chanel and Valentino, is on the cover of three global editions of Vogue this September alone and is considered one of the faces pushing black beauty ever forward, but Adut Akech Bior (best known in the fashion world as Adut Akech) recently suffered a major indignity on the continent she calls home.

America's Got Talent Host, Terry Crews, Shows Full Gratitude For Writers On Strike
On Sunday—Monday in Australia, where Akech, a former Sudanese refugee, hails from—the 19-year-old model posted an emotional Instagram post detailing a major gaffe by Who magazine. The magazine, which calls itself "Australia's #1 site for the latest celebrity news & photos," apparently couldn't get it right when it came to identifying one of the country's most famous faces, running a headshot of model Flavia Lazarus in tandem with a feature on Akech, a proud ambassador for both Australia and African refugees.
As Akech wrote:
[I've] given some deep thoughts the past few days on how to approach this situation that isn't sitting well with me.

For those who are not aware, last week @whomagazine (Australia) published a feature article about me. In the interview I spoke about how people view refugees and peoples attitude to colour in general. With the article they published a large photo saying it was me. But it was of another black girl.

This has upset me, has made me angry, it has made me feel very disrespected and to me is unacceptable and inexcusable under any circumstances. Not only do I personally feel insulted and disrespected but I feel like my entire race has been disrespected too and it is why I feel it is important that I address this issue. Whoever did this clearly the thought that was me in that picture and that's not okay. This is a big deal because of what I spoke about in my interview. By this happening I feel like it defeated the purpose of what I stand for and spoke about. It goes to show that people are very ignorant and narrowminded that they think every black girl or African people looks the same.

I feel as though this would've not happened to a white model. My aim for this post is not to bash Who Magazine -they have apologised to me directly - but I feel like I need to express publicly how I feel. This has deeply affected me and we need to start an important conversation that needs to happen. I'm sure that I'm not the first person that's experienced this and it needs to stop. I've been called by the name of another models who happens to be of the same Ethnicity, I find it very ignorant, rude and disrespectful towards both of us simply because we know that this doesn't happen with white models. I want this to be somewhat of a wake up call to people within the industry it's not OK and you need to do better. Big publications need to make sure that they fact check things before publishing them especially when its real stories and interviews and not just some made up rumors. To those who work at shows and shoots it's important that you don't mix up models names. Australia you've a lot of work to do and you've got to do better and that goes to the rest of the industry
Again, for the folks in the back: "They think every black girl or African people looks the same...I feel as though this would've not happened to a white model."
And Akech isn't the only model to have suffered the insult of being misidentified by an Australian outlet. After seeing Akech's post, fellow Sudanese-Australian model Duckie Thot commented, "This has happened to me too with another Australian paper... it's really disrespectful and sad. I hope you're okay 💗."
But obviously, it's not OK. While mistakes happen, they seem to happen much more frequently when black people are involved; a point even conceded by the Australian arm of Yahoo Lifestyle, which wrote the following in its reporting on the issue:
In fact, a quick survey of my newsroom colleagues today revealed that none of us could recall an instance where this has happened to a Caucasian celebrity in Australia.

That's quite a feat, considering our local industry is whitewashed beyond comprehension, whether that be on screen, on the airwaves or on the runway...and yet we've conscientiously avoided misidentifying any golden haired, blue-eyed, fair-skinned lookalike TV hosts.

We identify our Sylvias from our Sams and Sonias, and our Angelas from our Allisons.
As noted by Akech, Who magazine did apologize to both models, issuing a statement that placed the blame on the PR agency that coordinated the interview—which doesn't entirely absolve its lack of ability to identify one of the most famous faces in the fashion industry at the moment, let alone within Australia.
The statement read, in part:
Unfortunately the agency that set up our interview with Adut Akech supplied us with the wrong photograph to accompany the piece," read the statement. "WHO spoke directly with Adut to explain how the error occurred and have sincerely apologized...We also apologize to Flavia Lazarus for the misprint.

Our intention was to share Adut's inspiring story and highlight her achievements. We are committed to increasing the diversity in the pages of WHO, and arranged the interview in view of this. Hopefully the result of our misprint will be more people talking about this issue in the industry and tackling it head-on.
Or, we could all just care enough to do our own research and do better.