Every May we take a Sunday to honor our individual moms. But what about the women who, whether or not they have children of their own, offer the spirit of motherhood to all of us? They use their platforms to deliver a steady stream of love (sometimes tough), guidance and care. They're nurturers, providers and sources of plenty of inspiration. Whether or not they know it, these individuals are moms to black America in a spiritual and emotional sense, and it's about time we wished them a happy Mother's Day.
Toni Morrison
In her 83 years the novelist, essayist and professor has provided more inspiration and comfort to aspiring writers—and those who just like to escape with a wonderful book—than she could ever imagine. Her writing earned her a Nobel Prize, but her role as a mother to an entire generation of African-American literary types is every bit as noteworthy. 
Rep. Sheila Jackson Lee
G/O Media may get a commission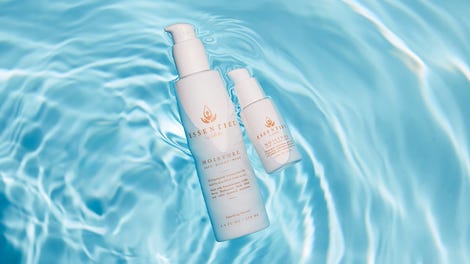 20% off
Essentiel by Adele
Shown here comforting the parents of slain teen Travyon Martin, this longtime member of Congress has dedicated every year since she was first elected in 1995 to making life for the people of her inner-city Houston—and all Americans—better.
Oprah Winfrey

Need someone to look up to? This talk show host turned all-around media mogul and philanthropist isn't a bad choice. She provides opportunities for the girls at her South African boarding school, and for the rest of us she's a source of words of wisdom—and now, thanks to her Super Soul Sunday, spiritual insight.
bell hooks
Americans—especially black women—would be hard-pressed to find a wiser or more thoughtful critic to give her perspective on the world around us than this feminist and social activist.
Maya Angelou
"When people show you who they are, believe them." If that oft-repeated quote isn't motherly advice, then what is? This award-winning poet, educator and historian exudes kindness and wisdom.
Jada Pinkett Smith
Some may not agree with her permissive personal mothering style, but the actress doles out wisdom about friendship, love and spiritual matters—often through her Facebook page—that is deep enough to resonate with even her biggest critics.
Iyanla Vanzant
If your life is falling apart, sometimes you just need your mother—or this author and self-help guru—to fix it. The tough love she delivers on the big screen is the medicine of which many of us could use the occasional dose (just not in front of the entire country).
Estella Pyfrom
Looking out for the people in her Florida community who could use some additional education resources, this teacher saw a need and created the Brilliant Bus—a mobile computer lab that provides tutoring for low-income children and adults.
Jaspen Boothe
A hallmark of motherhood is creating a safe home. Boothe has been doing that for veterans since 2011, providing transitional housing or financial assistance to more than 50 women and their children through her nonprofit, Final Salute.
Del. Eleanor Holmes Norton
She's a nonvoting member of Congress, but now in her 12th term, this delegate—who is also a civil rights and feminist leader—fights tirelessly to make life better for the people of her Washington, D.C., district.
Angeles Echols-Brown
More than 3,500 students (and counting) have attended four-year universities thanks to Echols-Brown and her nonprofit organization, Educating Young Minds, which prides itself on "putting the needs of the child first."
Michelle Obama
The first lady calls herself "mom in chief," putting the needs of her own girls first. For the rest of us—especially military families—she is a source of comfort and inspiration. And of course she reminds us all to get outside and play and to eat our vegetables.
Shirlee Smith
She's the founder and president of Talk About Parenting with Shirlee Smith, a Pasadena, Calif.-based nonprofit organization that specializes in parenting issues and takes a no-nonsense approach to raising happy, balanced children. And that's after having fostered a dozen infants. Sometimes moms need guidance, too, and when they do, Smith is there.
Sherrilyn Ifill
Moms make sure everyone is playing fair. This civil rights activist does that, too—mostly in the courtroom. Ifill is the seventh president and director-counsel of the NAACP Legal Defense and Educational Fund. She also has plenty of wisdom to share, offering writings, speeches and media appearances that enrich the public debate about a range of political and civil rights issues. 
Wanda Butts
Nothing is more central to mothering than imparting the skills needed to stay safe and to be independent. Butts does that in a very specific area: swimming. In 2007 she started the Josh Project, a nonprofit that provides low-cost swimming lessons for children and is committed to increasing the number of black kids who are comfortable in the water.