When the president pardoned former Maricopa County, Ariz., Sheriff Joe Arpaio during the middle of both Hurricane Harvey and a Trump media dump Friday night, many speculated that it was a bone being thrown to his base to appease it after the likely forced resignation of deputy assistant Sebastian Gorka. But was there more at play than we think?
On Monday, the 85-year-old controversial former sheriff said in an interview with the Washington Examiner that he is considering another run for public office, and this time his eye is on the Senate seat of Arizona Republican Jeff Flake. Flake has been an openly vocal critic of Donald Trump and refused to endorse him during last year's presidential election.
Arpaio told the Examiner that he believes Republican politicians are not supportive enough of the president, whom he considers to be a great man. He was upset at the backlash the president received for pardoning him.
"I'm sure getting a lot of people around the state asking me to challenge Flake," Arpaio added in his interview with the Examiner. "All I'm saying is, the door is open and we'll see what happens. I've got support. I know what support I have."
G/O Media may get a commission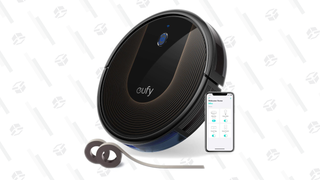 48% Off
Eufy BoostIQ RoboVac
Although Arpaio previously swore off another candidacy when he left office in January, he said that what he has seen happening in recent months, especially with the president, has him saying, "Hey, why not?"
As for those who would question him making a run at his age, Arpaio said, "[T]here is a lot of discrimination against senior citizens big time ... I'm proud to be my age. I work 14 hours a day. If anyone thinks my age is going to hold me back, I've got news for them."
As previously reported on The Root, Arpaio was convicted last month of violating a judge's order to stop his "immigration patrols" that involved the racial profiling of Latinos. He was scheduled to be sentenced in October and faced up to six months in prison.
Arpaio also told the Examiner that he may sue journalists who have called him racist, and that his lawyer is looking into that possibility.
Yeah. Good luck with that.
Flake already has another challenger going up against him: Kelli Ward, who ran unsuccessfully against GOP Sen. John McCain in the 2016 primary, has announced that she will challenge Flake in 2018.
Read more at the Washington Examiner.