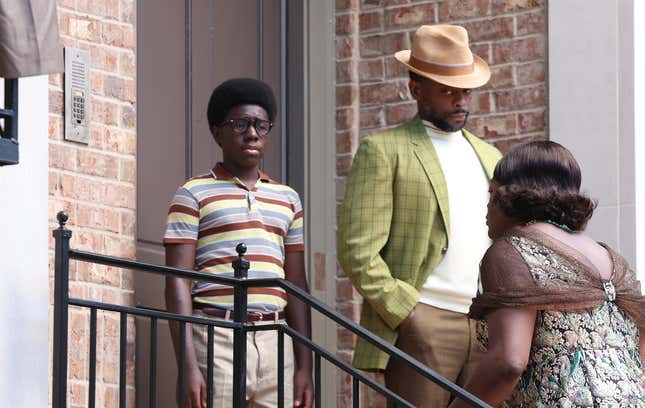 ABC's brilliant Peabody-winning comedy The Wonder Years is finally returning for its long-awaited Season 2 on June 14 at 9 p.m., and in the words of series star Dulé Hill, "Good things come to those who wait." In case you haven't checked out this amazing series, you still have time to catch up on Hulu. Hill and his TV son Elisha "EJ" Williams spoke to The Root about where the Williams family find themselves this season.

The Wonder Years Season 2 Is Our TV Pick of the Week
One of the things that made the first season so captivating is the way it blended the serious elements of a Black family living in Montgomery, Ala. in the '60s, with the authenticity of Black people just trying to adapt and manage everyday obstacles. It's not all about the trauma of the time, it's about this family living through and preparing for the changing times that come with the end of a decade.
"Last season, when we first came out, I would say that what attracted me to the show was that it was set back in this time, but it's not all dogs and water hoses," Hill told The Root. "That was a part of life, but that wasn't the full scope of life for an African-American family in the late 1960s. I think people will be able to relate to that in the midst of any challenges that may go on, love still abounds. Joy is still there. Laughter can still fill your walls in the midst of any challenges that may go on. There were challenges back in the '60s. We're going through many challenges now. But there is a correlation to the fact that if we just stay connected in love, unity, joy, laughter and light, we can still all have our very own Wonder Years."
Despite the show's setting, it has a timeless quality. The Williams may be living in the '60s, but the series could just as easily be about a family in modern times. It really feels like I'm watching hilarious dinners that my family had in the '80s and '90s.
"Family is timeless. Whether you're a child of the 60s…or a child now, there are certain things that all Black families can relate to," Hill said. "And there's sometimes an even greater story that all families can relate to. Saladin [K. Patterson, executive producer] and the entire writing staff has done a great job of crafting these stories to reflect that."
It's been a while since we've seen Dean, so for EJ, he's exploring the natural progression of the character. We all know how hard these pre-teen years are when you're still basically a kid, but you definitely start to feel older. The young actor is ready to see more growth from Dean.
"I think the challenge for Dean is trying to really understand to be more mature. What I've learned with Dean is [he] is a very petty character," Williams said. "Dean doesn't realize that what he's doing is bad until everything already goes wrong. He's a kid, his parents aren't really shoving problems onto him. He's having a normal life. He's going to school, he's hanging out with friends, he's liking girls, all of those things that kids do. He's getting older, he's going into eighth grade. He's dealing with his friendships, So maturity is the biggest thing."
The Wonder Years premieres Wednesday, June 14 at 9 p.m. on ABC and is also available to stream on Hulu.