Given that the team is owned by three women, it shouldn't come as much of a surprise that the WNBA's Seattle Storm has partnered with Planned Parenthood, the first such partnership between the embattled reproductive health care organization and a professional sports team.

"I personally got my first birth control with Planned Parenthood," said Storm co-owner Dawn Trudeau. "I think it's a tremendous asset for women and girls and actually men, too, for some types of services."

USA Today reports that the Storm will donate $5 of every ticket purchased for its game against the Chicago Sky on Tuesday to Planned Parenthood. It also has a pregame rally planned near the team's arena for the organization.
The idea of partnering with Planned Parenthood—currently at risk of losing its federal funding because of anti-abortion rights forces—came about after one of the team's co-owners, Ginny Gilder, attended a Planned Parenthood fundraiser and decided that her team should help.
G/O Media may get a commission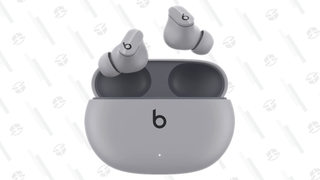 She first enlisted Trudeau and the Storm's third co-owner, Lisa Brummel, and went to the team so members could decide how they could support. They told Storm team members that the initiative was totally owner-driven and that they were under no obligation to participate.
Planned Parenthood, of course, was ecstatic.
"The Seattle Storm owners made a decision to publicly support Planned Parenthood, making them the first professional sports team to make their voice heard and their stance known," said Christine Charbonneau, CEO of Planned Parenthood of the Great Northwest and the Hawaiian Islands. "We are proud to work alongside the Storm and their efforts in leveling the playing field for women and girls. Right now, we are seeing a relentless effort to roll back progress for women. Being in this fight alongside our supporters and the Storm is an honor."

According to its website, Planned Parenthood serves more than 1.5 million young people and adults in a single year, with 80 percent of its patients going for contraceptive services.
It provides more than 295,000 Pap tests and more than 320,000 breast exams in a single year, and more than 4.2 million tests and treatments for sexually transmitted infections, including more than 650,000 HIV tests.
For many women of color, especially, it is a safe, affordable and convenient choice for reproductive health care.
Check out the video from the Storm below:
Read more at USA Today.