Editor's note: This post contains tweets that some may find offensive.
In today's "When Your White Ally Goes Wrong" news, David Simon, creator of The Wire, had some explaining to do on social media when he used the n-word in a tweet.
Simon took issue with the fact that Donald Trump was having a "a town hall meeting on African-American concerns" hosted by Fox News' Sean Hannity. Yeah, because Hannity hosting an event with Trump about black-people issues makes a lot of sense. And this is what Simon attempted to point out, sarcastically. But he took a wrong turn:
Of course, people took issue with his tweet and tried to get him to delete it:

G/O Media may get a commission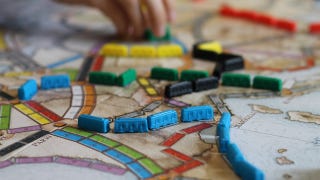 Tabletop & Board Games to Play This Fall
. @AoDespair for the people who missed the previous billion memos like David Simon here, if you're not Black, don't use the N word pic.twitter.com/xyzUG26UmZ
— Lauren Chanel Allen (@MichelleHux) September 20, 2016
Simon gave himself a pass to use the word and said it was to make a point:
Simon's excuse really doesn't work. Since he's someone who considers himself a gifted writer, metaphors should come easy without the use of the n-word.