The Washington Capitals, the Washington, D.C., region's representative in the NHL, are one win away from being the 2017-2018 NHL champions. Obviously, this is an exciting time for the region because we haven't had a championship win in any of the four major sports since 1992, when the Washington Racistnames won the Super Bowl, and haven't had any team reach the championship round since 1998, when the Capitals lost to the Detroit Red Wings.
I don't know how else to say this but to state it matter-of-factly: While there are definitely black (and nonwhite) hockey fans and most certainly black hockey players (including on both the Washington Capitals and Las Vegas Golden Knights; the Capitals have a player named Devante), hockey is a pretty white-ass sport.
Washington, D.C., used to be nicknamed "Chocolate City" because of the presence, influence and power of the black community in the city. Well, times they are a changin'. D.C. is more of a "Latte City" now as more and more white people move into the city, push rents to astronomical levels, close down all of the seasoning shops and throw culturally significant names on venues that are about as vanilla as Iceland.
Neighborhoods that used to be predominantly, if not entirely, black are becoming "historically" black and overwhelmingly white. And it's happening all over the city. Busboys and Poets, the popular eatery and bookstore, is opening a new location in the blackest part of town, and you can almost see developers and gentrifiers rubbing their hands in anticipation of higher property values in an area so close to the U.S. Capitol and MLB's (Washington) Nationals Park and the soon-to-be-opened D.C. United soccer stadium.
Gentrification, as they say, is a motherfucker.
After the Capitals won Game 4 of the Stanley Cup Final, the news showed pictures and video of the area outside of Capital One Arena, the venue where, along with the Capitals, the NBA's Washington Wizards and WNBA's Washington Mystics play (for now; the Mystics are moving to an arena in the Congress Heights neighborhood of D.C. soon).
G/O Media may get a commission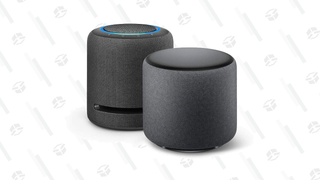 25% off - Prime Exclusive
Echo Studio + Echo Sub Bundle
There was a sea of people in the streets of Chinatown, on the steps of the National Portrait Gallery, all up and down Seventh Street, Northwest, and on all of the surrounding streets. D.C. was lit. And it was almost entirely white people.
Obviously, there were people of color mixed in, but there is no doubt that the folks most excitedly participating in the celebration, enough to venture downtown and loiter like a motherfucker, were white Washingtonians (probably mostly transplants).
It looked like Donald Trump's inauguration (possibly more people, and obviously, political affiliations aren't at stake here; I imagine that just as many Democrats are out celebrating the Caps as Republicans), except I'd wager that tons of those people were drinking. And that shit looked scary as fuck to me.
Especially because you know and I know that if there were a gathering of that many black people in one place—and it looked like thousands upon thousands—it would be a thing. Like a thing thing.
But short of a march with specific instructions and permits obtained or riots because of some injustice, I can't imagine a large gathering of black folks like that trying to celebrate because we know that the police wouldn't be as receptive or as excited about thousands of inebriated people of color taking to the streets for any reason.
Yes, I took it to race. And it's a shame that I have to, but it's also fact. People of color are just not as acceptable to the public consciousness as are a bunch of lit white people celebrating a sports victory.
College towns are proof positive of this. Campuses are set ablaze after sports victories, and life goes on as if it's the norm. If the Capitals win Thursday night, motherfuckers might burn down shit in D.C., and in many ways, that's almost acceptable. Obviously, law enforcement will be present, and because of alcohol and celebration, somebody's going to jail. But the tolerance for toeing the line between celebration and obnoxiousness is much higher for white people.
Washington, D.C., has tons more white people now than we did back in 1998, so seeing a group of thousands of white people celebrating and turning over shit might not be too far off if the Capitals win Thursday night. And rest assured, I hope they do (or in Game 6 or 7, if necessary). Washington needs a championship.
And no championship feels more appropriate for gentrified-ass Washington, D.C., than one in hockey.
Go, Caps.