It was a landmark year for inclusivity at the prestigious 2018 James Beard Awards—long considered the "Oscars of the food world"—which took place at the Lyric Opera in Chicago Monday night. This year's nominees included 24 female chefs (out of 61 total nominations), making 2018 the biggest year for women in the event's 28-year history, and the year with the second-largest number of nominees who were chefs of color.
Among the winners: Alabama's Dolester Miles won Outstanding Pastry Chef for her work at Birmingham's Highlands Bar & Grill, where she has been crafting sweetness for over 35 years; New Orleans chef Nina Compton won Best Chef: South for her stellar skills at Compère Lapin and cocktail bar Cure. Good, old-fashioned barbecue was a big winner, too: Chef Rodney Scott won Best Chef: Southeast for the incomparable flavors of his whole-hog barbecue at his eponymous restaurant in Hemingway, S.C.
And the wins weren't just for food: Author Michael W. Twitty became the first black writer to win Book of the Year at the James Beard Media Awards (held April 27 in New York City) for his memoir, The Cooking Gene: A Journey Through African-American Culinary History in the Old South. It is the first of a trilogy he is writing about his identities, which also include Jewish and gay.
But the big winner of the year was Seattle-based chef Edouardo Jordan (pictured above), who took home double honors as Best Chef: Northwest as well as for Best New Restaurant for the delectable Southern cuisine served at his newest restaurant, JuneBaby (he also helms popular Seattle restaurant Salare).
G/O Media may get a commission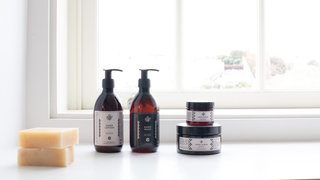 Exfoliate and Hydrate
The Handmade Soap Company
Accepting the award for Best New Restaurant, Jordan, surrounded by his staff, paid tribute to those who preceded him, saying:
I stand in the shadows of chef Patrick Clark, now chef Rodney Scott, chef Nina Compton, chef Dolester Miles, chef Marcus Samuelsson, chef Leah Chase and all the other chefs that never made it to this stage, but they've been pounding their knives against the walls and their cutting boards, and we finally cracked through. … This is a beautiful time in our industry, that we're able to capture the beautiful color and pictures that actually have made American cuisine—the food and the history.
Jordan also honored his "crew" and family before emotionally dedicating his award to his 4-year-old son, Akil:
I love you to the moon and back, and this award is for you. And I want you to dream big, my little star. We're making history tonight, and Daddy wants you to know that if you can dream it, you can achieve it. And the future is yours, but don't forget the past.
Lucky for us, Jordan was also host of Saturday night's Iconoclast Dinner Experience kickoff event in Chicago, the IDE All-Star Bash, for which The Root was on hand as media sponsor. Reflecting on his double win and what it means for the industry he loves, he told us:
One, it's going to help the greater media focus in on the bigger picture of the food industry and how diverse it actually is, from the women's issues to the race issues, and just starting to take a moment and embrace some of the folks that are actually cooking this food.
Jordan pointed to a nearly 5-year-old article naming him "the best chef in Seattle you've never heard of" as a pivotal turning point in increasing his visibility in the industry. He told us he hopes his double win this year will have a similar impact for other chefs of color:

I think it's going to wake the media up a little bit—that we need to take the moment and highlight and embrace everything in the industry. I think James Beard's committee is going to be more committed to dig deeper and search and highlight. And it may not be your typical fine dining, but there's something magical that is happening—and has been happening.
It's a valid hope; however, though this year's awards demonstrated significant progress, the James Beard Awards still have far to go if they want to reflect the approximately 51 percent of chefs who are of color and working in the industry as of 2014.
To date, only five black chefs have ever been nominated or won an award for Best Chef or Outstanding Chef, including two first-time nominees this year. Mashama Bailey, of the Grey in Savannah, Ga., and the first black female chef nominated for Best Chef: Southeast, told online magazine Mic:
I can't believe that in 2018, in a country that's been built with and alongside so many diverse cultures, that I am the first African-American female chef to be nominated for the James Beard Awards. I'm happy and honored to carry the torch.
But the honor of first black woman to win a Best Chef prize would ultimately be bestowed on St. Lucia native-turned-New Orleans powerhouse Nina Compton, who spoke with The Root about what this win means for her as a chef of color and as a woman in her industry:
Looking at the nominees this year, I think it was people that I really hoped [would win]—people like Edouardo, people like myself, people like Rodney Scott—there were so many people that I'm like, "Oh my gosh, this is such a landslide of people winning." And I think that it's just wonderful. It was just very overwhelming, and to get my name called it was truly special. ...

I think it's a beautiful time when people are actually really recognizing women chefs. For a very long time, it's been very male dominated, and I think that it's shifting now where there are more women that are actually doing the same things—cooking in amazing kitchens, putting out amazing products, being great mentors for their staffs—so I think it's great to see them being recognized now.
Jordan agrees; and notably, it is his tribute to the South—some 3,000 miles away in Seattle—that garnered him Best New Restaurant accolades for JuneBaby, only blocks away from his first restaurant, the more classically fared Salare. While Jordan is as proud of his first effort as his latest, it's not lost on him that his big win was awarded for a deep dive into his Southern roots, which he is not only serving but also teaching to a new audience.

"There's not a lot of restaurants like JuneBaby where you have to stop—you should stop—and take a moment and give praise for what one is doing," he told us. "And being an African-American chef and presenting my food as it is and how it should be from a chef's standpoint, you know, that's a moment of praise. And it should be praised, so I think [the James Beard Awards] got it."