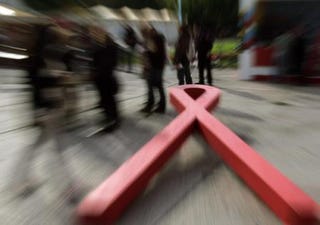 Barack Obama stood, jacket off and sleeves rolled, straining to be heard over the roaring crowd that had welcomed him home to Kenya. It was Aug. 26, 2006, and the world was already watching.
The young senator was just a few months away from launching his improbable bid to become the 44th president of the United States, and he needed to demonstrate his ability to walk on the global stage. So he'd chosen to swing through Africa as his first major diplomatic foray, with a grand return to his father's homeland as the highlight. And it was there, in Kenya, that he offered up his family as a deeply personal example of leadership in the fight against HIV.
"One of the reasons that we're here today," Obama began, having quieted the thousands that gathered around him at a tiny mobile clinic, "is because HIV and AIDS have ravaged the community." He explained that he and Michelle were about to take HIV tests together—and if they could do it, so could everyone else present. "I am so happy now because I know [our] status," Obama declared after the test. "We are both negative, and I can take control of my family and all tasks that lie ahead of me."
Just over two years later, those tasks are greater and graver than anyone ever imagined. President Obama now faces crises ranging from a global economic collapse to a rapidly destabilizing environment. But the challenge he chose to highlight that Saturday afternoon in Kenya has also grown more urgent, including right here in the United States.
The year 2008 was chock-full of bad news, far too much of it as predictable and preventable as it was devastating. AIDS was no different. For most Americans, the AIDS news got lost amid the uproar over soaring gas prices and plummeting 401Ks. But the summer of 2008 marked a similarly grave turn for the health of black neighborhoods: The U.S. Centers for Disease Control and Prevention, or CDC, announced that the American AIDS epidemic is at least 40 percent larger than we believed. Half of those infected are African Americans, though we're just 12 percent of the population.
In a report marking National Black AIDS Awareness Day—which is Saturday, Feb. 7—the Black AIDS Institute digs into the details of that CDC finding. The report, which you can read in full here at The Root, describes the epidemic in black neighborhoods, explores how public health has responded to it and lays out what the Obama administration has pledged to do in its first year.
Notably, the report is also an update on what black community leaders are doing about all of this.
For many years, black leaders—from faith to politics—were rightly criticized for ignoring the problem. But as this report details, that's no longer true. Black organizations ranging from T.D. Jakes Ministries to the Congressional Black Caucus Foundation have made AIDS part of their broader work. As Obama declared back in 2006, "We are all sick because of AIDS—and we are all tested by this crisis. It is a test not only of our willingness to respond, but of our ability to look past the artificial divisions and debates that have often shaped that response."
Obama's campaign platform included a plan for rising to that challenge. It will be tempting for policymakers and advocates to allow the hard work of realizing the new administration's potential on AIDS to drop in priority, given the overwhelming economic challenges the nation faces. We cannot afford that delay. Like many of the problems President Obama now faces, the previous administration's neglect of black America's downward spiral into AIDS makes action an urgent necessity now.
Making Change Real: The State of AIDS in Black America, 2009
Watch The Root's slide show—The AIDS Epidemic, by the Numbers
The State of Prevention: From Bad to Worse
The State of Treatment: Planning for Life
The State of Our Movement: Harnessing Resources
Download a PDF of the full report here.
Kai Wright is a regular contributor The Root.