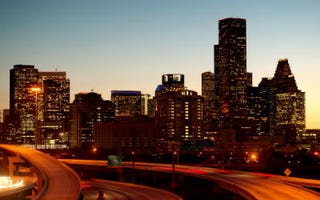 (The Root) —
Texas is hardly the first thought in one's mind when it comes to healthy living. Of course, Austin is the Lone Star State's irrefutable champion in the healthy-eating and active-lifestyle arenas, but what about the state's largest, most sprawling metropolis?
Houston, a stretched-out town of 2 million, exemplifies everything that is big about Texas — including the people. From 2001 to 2003, it ranked No.1 in Men's Fitness' survey of America's fattest cities. And even after the city's noble fall from the top of the list, Houston still ranked among the top 10 heftiest towns between 2004 and 2009, before hoisting itself back up to the top spot in 2012.
But there's an old adage that says nothing's impossible. And even in the balmy summers of this burrito-loving, burger-addicted town, healthy living is achievable.
Where to Work Out
First things first — ditch the wheels. Houston's sprawling topography makes it easily one of the most car-dependent cities in the country. But the city also offers more than 300 miles of intertwining bike lanes over more than 80 percent of the city. With the proper precautions, such as frequent hydration and light clothing, and the right amount of enthusiasm, biking in Houston can be not only an exciting way to work out, but a viable way to beat the traffic as well.
For those craving a little bipedal movement, running and hiking trails abound in this Southeast Texas metropolis. Home to two of the nation's top 10 largest parks, Houston offers more than 38,000 acres of green space.
The largest of Houston's parks, Cullen Park (19008 Saums Rd., Houston) sits on the city's far West side. Defined by its lengthy trails and dense foliage, the park offers various options for jogging, and its bayou-flanked trails provide the perfect opportunity to catch a glimpse of wildlife in the country's fourth-largest city.
Arguably the golden trophy of Houston parks, Memorial Park occupies more than 800 acres on the city's inner West side. A stone's throw from the glitz of the Galleria Area and the posh avenues of River Oaks, Memorial Park offers easy access to a public swimming pool, almost three miles of running trails and six miles of biking trails along Houston's Buffalo Bayou. Memorial Park is known as a hot spot for runners and joggers, who often pack the park in the early mornings and after dusk to beat the Houston heat.
Hermann Park, home to the Houston Zoo and adjacent to Rice University, lies in the heart of the city. Just less than half the size of Memorial Park, Hermann Park offers paddle boating, the Marvin Taylor exercise trail and spectacular views of the Texas Medical Center and downtown skylines.
The City of Houston's parks and recreation department offers various fitness-center locations around town, including four full-featured centers with cardio equipment, full-court gyms and more. Fitness fanatics can even arrange an appointment with a personal trainer at the Memorial Park Fitness Center (6402 Arnot St., Houston). The city also provides 13 community weight rooms and more than 20 community gymnasiums.
Where to Eat
Among Men's Fitness' most sobering findings on Houston: the city's penchant for fast food, or at least the easy access to it. The city boasts more than 1,000 fast-food restaurants, more than any other on the magazine's 2012 list. Even if greasy grub and giant portions reign supreme, fresh and healthy eats thrive here, too.
Vegetarians and health fanatics can get their fix at Sunshine's Vegetarian Deli (4915 Martin Luther King Junior Blvd., Houston) in Third Ward, one of Houston's oldest historic black neighborhoods. The black-owned business sits in the heart of a neighborhood where soul food and fried options rule, offering a change of pace for many on the city's inner East side.
Also in Third Ward, Conscious Cafe (2612 Scott St., Houston), which straddles the University of Houston campus, serves a wide array of vegetarian and pescatarian options for the health-conscious omnivore.
Ruggles Green, which has locations in River Oaks (2311 W. Alabama, Houston) and in West Houston (801 Town and Country Blvd., Houston), has a bevy of tasty meal choices, all of which are made from local and organic ingredients. Houston's only green-certified restaurant, Ruggles Green delivers when it comes to alternative diets and healthy eats, offering dairy-free, gluten-free and vegetarian options. Upon request, the restaurant can even make some classic dishes, like dips, tacos and pasta, without gluten.
Where to Shop
For those in need of a health-food grocery fix, there's no need to stop by those ubiquitous Whole Foods stores; Houston has a variety of health-conscious grocers. Central City Co-op (2515 Waugh Dr., Houston) in Montrose is great stop for fresh food and veggies. While the co-op does require a membership, newbies can shop for free on the first visit, and day passes cost only $2 each time after.
Urban Harvest Farmers Market (2311 Canal St., Houston), the largest in Houston, hosts markets Wednesday through Sunday throughout the city. My Fit Foods, with 13 Houston-area locations, offers pre-packaged meals, nutrition coaching and more for those looking to shed a few pounds or change their eating habits.
Where to Get Checked Out
Houston's health and human services department provides free primary and preventative care at several city-run clinics. Some nonprofit wellness and health centers also offer low-cost or free screening and health services, including Legacy Community Health Services, which has four locations throughout the city.
While Houston has its faults, the Texas metropolis doesn't fall short when it comes to healthy eats, recreation or workout options. As conscientiousness grows for living a healthy, active life, the Bayou City is sure to follow suit.

View The Root's Healthy Cities: Houston in a larger map
Joshua R. Weaver, The Root's editorial assistant, hails from Houston.