The 5th L
This Baltimore hip-hop, soul and spoken word duo is comprised of David Ross (Native Son) and Femi Lawal (The Dri Fish). Although the two perform independently, it is their collective energy that has earned them national tours, museum commissions and appearances alongside Saul Williams, KRS-One, Bill Cosby and more. In this performance on BET's "Lyric Cafe," the band synched their voices to build powerful momentum, sticking close to each other — showing a metaphor for brotherhood.
Captions by Simone Jacobson
Holly Bass
From Venus Hottentots to video vixens, this Cali-born, D.C.-based writer, performer and director explores the endless allure of the booty in works like Pay Purview and African Futures: DC. For National Poetry Month this year, Bass curated and commented on 140-character Twitter poems for NPR's "Tell Me More" with Michel Martin. Whether introducing Alice Walker with poetic flair or performing "Gleam" in her special brand of jazzy, understated tones, Holly brings sensuality and grace to the mundane.
Will "Da Real One" Bell
G/O Media may get a commission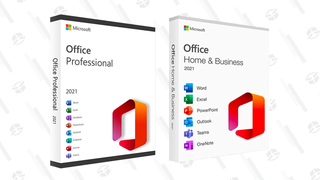 89% off
Microsoft Office Professional 2021 Lifetime License
Bell grew up in Miami's Liberty City projects. He won his first poetry slam, "Lip, Tongue and Ear," in 2001 and went on to win many others. He has made numerous television appearances and been featured on coveted radio spots typically reserved only for famous rappers. A tower of strength, Will's stern baritone voice is not to be ignored; in this sobering video of his Def Poetry Jam performance, he races backward through time trying to save black heroes.
Joshua Bennett
Bennett has 10 things he wants to say to a black woman, like: "The way to a man's heart is … through the heaven in your hello." If you're deaf, the young Marshall Scholar and Brave New Voices slam champion will sign to you. At the White House Poetry Jam, Bennett performed "Tamara's Opus" for his deaf sister. And in doing so, he brought Jill Biden (and the rest of us) to tears.
Nhlanhla Buthelezi
Until 1999, the English language eluded Joburg arts-scene veteran and performance poet Buthelezi. But in 2009, he succeeded in mastering the language, both written and spoken. Now No. 1 in Jozi slam poetry circuits, the Malawian-Zulu poet healed his own "literacy wounds" reading works by African authors. His conviction is impressive; you will also hear the influence of Western literary giants like Keats and Wordsworth.
Shá Cage
Born in Mississippi, Cage is a published playwright, poet and interdisciplinary artist. Her performances emphasize breath, call-and-response and legends both Southern and universal. Cage's poems travel powerfully through her small frame; she leans back, arching her body and voice to project confident, explosive verse. The audience participates in this live performance, where Cage acts as a historian, channeling ancestors.
Staceyann Chin
Chin, a Def Poetry Jam featured artist and LGBT activist living in New York, has not been silent about the difficulty of growing up gay in Jamaica. With her small frame and large 'fro, Chin commands attention and space through her powerful, steady rhythm and timbre. Publishing credits include the New York Times and the Washington Post. In her poetry, the multiple slam title-winner often explores her multi-hyphenated identity, Chinese, Jamaican and American.
Idris Goodwin
Based in Iowa City, Iowa, Goodwin is a playwright, educator and essayist. How We Got On — Goodwin's new coming-of-age play about middle-American hip-hop kids — was one of eight finalists to be workshopped at the 2011 Eugene O'Neill National Playwrights Conference. Recalling anecdotes from the trenches of public schools, his performance style is part hip-hop aesthetic, part self-help. In "The Freelance Blues," the humorist raps about of the price of "good intentions."
Chinaka Hodge
The East Bay Express named Hodge Best Poet in 2008. She appeared twice on Def Poetry Jam and was a U.S. artist delegate to the World Social Forum in Nairobi, and her first genre-defying play, Mirrors in Every Corner, received widespread accolades. A product of the literary arts organization Youth Speaks' training, in performance her hands beat invisible air drums to exhaustion, leaving her whole heart onstage, serving as Oakland's loudspeaker to the world.
Bassey Ikpi
Uprooted from her home in Nigeria on an Oklahoma-bound "iron bird," Ikpi discovered her lyrical gifts as a child. As an adult, she has appeared numerous times on Def Poetry Jam, performing works like "Homeward," where she loops the listener in with loving descriptions of familiar figures (mothers, grandmothers, aunties), then poses an impossible conundrum: Can we love in more than one language if we lose our mother tongues?
Douglas Kearney
When the LAist asked Whiting Writer's Award recipient Kearney what to expect from his upcoming performance, the librettist claimed his set would include "a slow jam from the perspective of an alligator" and a "club jam about genocide." Kearney, professor of African-American poetry, opera and myth at CalArts, made our list because of his unmatchable ability to translate printed stanzas into explosive, endearingly bizarre live shows. Check out this video of the author's delightfully schizophrenic song and dance.
Carvens Lissaint
Haitian-American Renaissance performer Lissaint appeared in the Hip-Hop Theater Festival's "Young, Gifted & Hyped" last year. Lissaint's community love letter, "Haiti," was published in the Progressive with an accompanying video of the poet detailing the earthquake's haunting aftermath. A generous performer unafraid to share his own fragility — "They say men don't cry" — his maturity is proven in poems like this one.
Abd Al Malik
It's hard to imagine a spoken-word album selling more than a few thousand copies in the U.S. Congolese French rapper-auteur Al Malik sold more than 200,000 units of his debut release, Gibraltar. He won the Edgar Faure Prize for outstanding political writers, and the awards for Best Urban Album (Victoires awards, 2007) and Artist of the Year (Constantin Prize 2007). His complicated rhymes, fluent banlieue slang and proper French become one with the jazzy samples (Nina Simone and others) behind his lyrics.
Lenelle Moïse
Watch this video by the award-winning Haitian-American poet, playwright and performance artist and see Moïse push stories from her mouth like it might save your life. This dynamic Northampton, Mass., poet laureate gives birth to staccato sounds, contorting her delicate limbs effortlessly as if in a trance.  Moïse's sensual characters utilize everything from hip-hop to jazz to address sexuality, spirituality and complex identities. Bridging tradition and innovation, she reads from handmade scrolls and performs internationally.
Letta Neely
Two-time finalist for the Lambda Literary Award for lesbian poetry, this New England resident was also named "Best Local Author of 2001" by Boston Phoenix readers. Neely refuses to tread lightly over difficult subjects, whether in print or in shocking new interpretations of the old "list poem" variety. Fiercely committed to the integrity of words that "live" on the page, Neely also masterfully explores the tragicomedy of race relations in the poem "Crazy Things White People Say."
Sunni Patterson
Sultry as the bayou, this hybrid Def Jam poet, songstress and emcee continues the NoLa musical legacy with her mellow, healing grooves and gritty performances, proudly repping her Crescent City heritage using spoken-word stylings. The Root recommends Patterson's distinctly Down Bottom tracks, We Ain't Come Here on No Cruise Ship and Song for Iya Oshun. Her Badu-like voice is akin to a typewriter with an ancient drum stuck inside, her vocal chords tapping quick, powerful rhythms even without music.
Jason Reynolds
Brooklynite Reynolds is the everyman's poet. His voice shivers in his throat, as if he were on the verge of tears, destabilizing the listener and presenting a new way for imagining time — check out "Time: An Original Motivational Poetry Performance," an ode to the incarcerated. His colloquial vernacular is masterfully crafted. A sample of a  haiku: "I write poetry/'cause if I don't people will/make fun of my clothes."
Ramona Lofton a.k.a. "Sapphire"
When we think of Sapphire, we think of Push, her novel that later became the blueprint for the 2009 Sundance instant classic, Precious. Born in California to Army parents whose squabbles left her homeless, Sapphire later enrolled in college only to leave the academy for "hippie" life. Sultry and assured, she knows how to coo and hiss words to life onstage. In this reading from her new novel, The History of the Future, Sapphire's sensual, poetic delivery of her narrative hypnotizes the audience.
Asha Shannon
Youth poet Shannon wants to leave the "biggest damn mark you've ever seen" on this world, and she's off to a great start. Born in Japan and educated at the Duke Ellington School for the Arts, Shannon was featured alongside an elite group at An American Playlist at the Kennedy Center last year and is a member of the D.C. Youth Poetry Slam team. At only 17 years old, Shannon exudes maturity, poise and vulnerability in "Starfish and Coffee."
Lemn Sissay
The Ethiopian-British author and playwright's poems appear on the streets and buildings of his hometown, Manchester, England. Sissay's video installation, What If?, is a provocative performance piece questioning the (mis)direction of human evolution, layered over simple piano and bass notes.
Patricia Smith
"Gotta love us brown girls, munching on fat, swinging blue hips,
decked out in shells and splashes, Lawdie, bringing them woo hips."
Excerpted from "Hip-Hop Ghazal"
Sonja Sohn
Maybe you know Sohn as Detective Kima Greggs from The Wire. Literary heads among us were first introduced to her in 1998 when she played Lauren Bell in the Sundance Grand Jury Prize-winning film, Slam. Sohn's character inspired D.C. detainees through spoken-word poetry, and the film showcased her ability to spit fiercely in "Run Free," where her urgent words lament the feeling of being trapped. She rattles your core, but can also take it down to a whisper.
Bianca Spriggs
"The new standard bearer for the Affrilachian Poets," Spriggs is also a published author, performer and Cave Canem Fellow. The Root recommends Spriggs' science fiction-esque "Cosmosis" and "The Afro That Ate Kentucky" (a "true story"). Her facility for comedy and visionary storytelling takes the listener on a fantastic voyage.
Deja "VooDoo" Taylor
Taylor hails from Planet Funk Chicago. The young poet and singer has performed internationally, including at the Brave New Voices youth poetry slam and the Kennedy Center's American Playlist, opening for The Roots. Her poem "Ode to the Female MC" begins with an epigraph by Lauryn Hill and proceeds to call out hip-hop for its male dominance and "groupthink." Her hard-hitting shouts are coupled with a sincere plea to celebrate women in the genre.
Saul Williams
Not many poets can say they've recorded with Rick Rubin and released music videos and books through MTV. Enter Williams, who also lays claim to the most powerful two minutes of poetry in a feature film (SIam, 1998). In the film, his character, a prison inmate, leaps up during outdoor rec and launches into a performance of self-exorcism, releasing all of his fear and paranoia. In Williams' new video poem-tribal rock jam, "Explain My Heart," he is an Afro-futurist superhero swooping through Paris.
Brook Yung
Last year, poet Yung starred in a commercial for NBA's "Slam Dunk" competition, sponsored by Sprite. The young artist's original verse laid out what his fantasy dunk showdown would look like. He challenged players, "Give us somethin' to read about." More recently, his collaboration with US3 was featured on VH1 Soul. Like many other slam poets who make music, Yung's demeanor is cool, but his flow is perfectly mellow over the track's acid jazz backdrop.
Sonya Renee Taylor
Taylor is best known for proud declarations celebrating her "thickness." She leaves audiences in stitches with playful wordplay. At times, her work is sobering and understated, but can quickly climax to outrage, forcing us to consider "What Women Deserve." The Def Jam poet is also riotously funny and absurd, as seen in "Slices," a poem about rotting foods, delivered with unexpected intensity and flamboyance.
Dr. Benjamin Obadiah Iqbal Zephaniah
Rare are poets like Shel Silverstein, whose simple rhymes have profound meanings for children and adults. Zephaniah's work shares this singsong quality, accessible to all, with broader social issues as catalysts. In "Genetics," Zephaniah personifies a mad professor dabbling in pseudoscience. His content — and ridiculous choreography — asks the viewer to explore the consequences of upsetting nature. Watch "If I Were PM," featuring Zephaniah as a "fashion icon/supermodel who writes poetry in his spare time."
Willie Perdomo
Junot Díaz, a Pulitzer Prize-winning author, rightfully dubbed Perdomo "the hurricane we all write home about." In addition to receiving a PEN America Beyond Margins Award for his book, Smoking Lovely, Perdomo has been published in Bomb and the New York Times Magazine. In "How Beautiful We Are," which aired on season one of Def Poetry Jam, Perdomo bounces to his own Spanglish hip-hop rhythm, a dancer singing his text, each phrase bringing music to life.
Marquis L. Mix (aka 13 of Nazareth)
In 2006, 13 of Nazareth released Fallout Shelter: An Epileptic's Epic, a spoken-word album showcasing the Virginia emcee's ability to articulate the difficulty of ridding our lives of influences that don't serve our higher purpose, especially on the track "The Blak Salaam-Man-D.E.R." Coordinator of the annual National Underground Spoken Word and Poetry Awards (NUSPA), 13 is a modern mystic whose controlled falsetto gives rise to crisp words snapping like raindrops over a war zone in "Death Before Honor."