It really shouldn't be this easy to get access to a legend in any genre of the arts, but in a nearly empty room on the second floor of the Ernest N. Morial Convention Center in New Orleans, Big Daddy Kane sits patiently, giving interviews.
He's at the Essence Music Festival, this hip-hop pioneer associated with Biz Markie and the Juice Crew and the seminal hit "Ain't No Half-Steppin'," to promote his Unsung documentary special, TV One's answer to VH1's Behind the Music series. Kane's Unsung — which will be seen throughout the season — peers into the pioneering MC's prime years in the late 1980s and follows him to where he is today: an icon — still alive — and performing as much as ever.
Kane spoke to The Root about his special, about not being bitter and about why it's OK that some younger artists aren't aware of his influence.
The Root: Your Unsung documentary was remarkably candid. Was there anything that surprised you? 
Big Daddy Kane: Well, I didn't know [Video Music Box creator] Ralph McDaniels didn't think I could dance. [Laughs.]
G/O Media may get a commission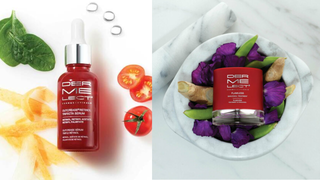 Save $19
Retinol Renewal Kit
TR: Did you feel it told the whole story? 
BDK: It was cool, because everybody has a story that needs to be told. Mine is actually a lot bigger than a half-hour. I wish I could've had a two-hour set.
TR: When I was watching the show and it got to your later years, it was refreshing to see how you are not bitter that things aren't what they used to be. 
BDK: I mean, that's the reason I shouldn't be bitter, because I'm a rapper today. I still go out on the road to do shows. Artists still call for me to be featured on their tracks. What is there to be bitter about?
TR: Well, your profile isn't quite what it used to be.
BDK: There was a time when I was a top-slot rapper. I had all the tours and all that, but everybody gets their chance. That's the way the world works. At some point in time, you're in your youth, you're strong, you're powerful, but you get old and then you die. It's the same thing with music. There was a point when I was at my strongest; now I'm much older, but still relevant.
TR: Do you feel your skills as a rapper have improved as you've gotten older?
BDK: Honestly, I'm not going to say that. What I will say is I'm not a worse rapper. Sometimes time can season someone to make them better, but you know I was the baddest motherf—-er then, so it don't really get no better in my eyes.
TR: That's true. When you started, you set the bar high. It just seems that the skills of an MC are like playing an instrument, and over time you can get better. But then again, some rappers sound worse as they get older. 
BDK: But some artists, they don't have those strong lyrical skills, so time will season them and make them become better. Then there's some artists who are lyrical in their time period and then time goes on, the styles change and they don't adapt to the new styles, the new flows. They're still dope MCs, but they sound dated. That's how it can affect someone.
TR: A friend of mine bought "Ain't No Half-Steppin' " on iTunes yesterday. Do you ever wish fans would appreciate more than just the popular records from your catalog? 
BDK: If someone wants to cling to "Ain't No Half-Steppin'," it's cool because it's me, nothing I'm ashamed of. It's something I'm proud of, so if you just get into it or you want to hang on to it, I'm cool with that.
TR: What about the artists of today who don't mention you but were unknowingly influenced by your work?
BDK: Some artists of today, back in the late 1980s, they probably were 5 years old, so they probably didn't know who I was, so what am I supposed to expect? If you become successful at a young age and made it, I can't expect you to all of a sudden want to be a college student and pick up hip-hop encyclopedias and study.
It would be dope, because I really think [those are the] things that make artists great. When I got on, I was spending the night at Doug E. Fresh's crib. He showed me tapes of Earth, Wind & Fire, Pink Floyd, Michael Jackson. He was explaining how this was what he watches to figure out his stage show — he watches a bigger picture and studies the past — so I learned how to do that. I started studying video footage of Marvin Gaye, James Brown.
TR: The Unsung documentary goes into depth to talk about the risks you took with the choreographed dance moves onstage and the "Ladies Only" concerts, which were influenced by Teddy Pendergrass. Any artists you see taking similar risks today?
BDK: Yeah, when I look at all the crazy stuff Lil Wayne does, I understand. He's taking the rock and roll route, which is dope. You have to be creative. You have to separate yourself from everyone else, show everyone what they should do.
TR: Your performance tonight at the House of Blues is a few hours away. Do you know what songs you're doing?
BDK: Honestly, I haven't decided, but definitely "Smooth Operator," "Raw," "Ain't No Half-Steppin' " …
TR: The classics — ever get tired of performing those?
BDK: No. Those songs made me who I am.
TR: Have the motivating factors to continue changed since you started? What motivates you to continue to do this?
BDK: I guess, really, fans. When you see cats saying they grew up on you or young fans saying, "My father played your music for me all the time," I like that. When you see loyal fans, and they appreciate what you did regardless of what any magazine or television show can do to try to put a stain on your career, there's a true die-hard fan that will never let that happen. They motivate me.
TR: Another subject your documentary touches on is the influence you had on Jay-Z and how you were the first established MC to really take him under your wing. When's the last time you talked to Jay?
BDK: I couldn't even tell you; it's been that long.
TR: He once talked about retiring, and a lot of MCs talk about doing the same, but you're still around. Will there ever be a time when you retire?
BDK: Absolutely; of course there will be a time when that's going to happen.
TR: When do you see that happening?
BDK: [Shrugs shoulders and smiles.] I'm still in my prime.
Jozen Cummings is a frequent contributor to The Root.
Jozen Cummings is the author and creator of the popular relationship blog Until I Get Married, which is currently in development for a television series with Warner Bros. He also hosts a weekly podcast with WNYC about Empire called Empire Afterparty, is a contributor at VerySmartBrothas.com and works at Twitter as an editorial curator. Follow him on Twitter.