Who knew one neck roll had so much power?
Earlier in the week, various outlets were speculating that The Real might be on the verge of cancellation in light of declining ratings—purportedly sparked by the absence of Tamar Braxton, who was abruptly fired from the show earlier this year.
Well, to be fair to the show, some of these outlets were citing a bad-ratings story published by The Wrap in September 2014. True enough, the show started to sag a bit in 2014, but just a month later, it was being celebrated for besting the likes of Meredith Vieira's now canceled show in ratings.
However, there is a more recent story about how the show is once again suffering from a ratings drop that has it matching its series low. It remains to be seen whether the show will bounce back as it has in the past—although, if you've followed the new season thus far, it might not be surprising to see this show remain in struggle mode.
While the remaining four co-hosts—Tamera Mowry-Housley, Jeannie Mai, Adrienne Bailon and Loni Love—are all lovely people, there is something noticeably missing from the show. That something is the former co-host who sat farther to the left and who continues to be what I feel is the real-life version of that old BET-made animation known as Cita.
Whatever one makes of the youngest Braxton sister, she's certainly never been dull. Now more than ever, I miss her interjecting her opinion whenever the mood suited her. The same goes for her beginning statements with, "I mean … " and "Welll … " and "Tuh, girl … " Ditto for her rolling her eyes and sucking her teeth.
G/O Media may get a commission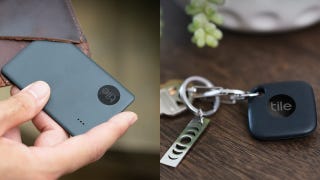 Up to 35% off
Tile Item Trackers
Wait. I cannot forget my favorite: the very high-pitched, "You tried it!"
Thing is, if you're going to copy The View, which birthed the basis of this show, as well as The Talk and others, you've got to be committed. What both The View and even The Talk understood is that when you create a winning formula, you have to commit to it. For The Real, it's five different types of women on one panel.
Mowry-Housley is the nice, polite Christian woman who married that nice man from Fox News. Mai is that spunky person with the mom who could easily do her job and everyone else's, TBH. Bailon is loud, no longer a Cheetah Girl from 3LW, and does a great job emulating Beyoncé's "Crazy In Love" strut at the beginning of the show. Love is loud, cracks jokes and will, I guess, fuss at you when necessary to spread viral content online.
Well, they're all loud—except for Mowry-Housley—but with Braxton's absence, now more than ever, we can tell that not all loud people are created equal. Who remembers when 702 sisters Irish and Orish Grinstead tried to continue on with the group without Meelah, replacing her with a singer named Cree Le'More? They recorded the lead single "Pootie Tangin'" for the Chris Rock film Pootie Tang, which flopped, and then Meelah ultimately came back.
The Real without Tamar Braxton is basically the song "Pootie Tangin'."
Braxton will not be coming back to the old group, though. She's already working with Steve Harvey on a new daytime talk show called The Tamar Braxton Show. One wonders how Braxton will carry a talk show all her own, but for the people producing The Real, it's time to stop playing and find a replacement.
No one will be another Tamar Braxton, but the right person can bring her own unique energy to the group and give the show the jolt it needs to move forward before it's too late. There is room for error, of course. Farrah Franklin didn't help fans get over LeToya Luckett, or LaTavia Roberson, but we did have many great moments with Michelle Williams and the group as DC3.
When you watch The Real now, it's like Diana Ross left the Supremes and the remaining four can't even give the viewers "Up the Ladder to the Roof." Hurry, y'all, 'cause in the land of daytime TV, y'all will get y'all's real asses canceled fast. Good luck.
Michael Arceneaux hails from Houston, lives in Harlem and praises Beyoncé's name wherever he goes. Follow him on Twitter.