It may seem like a fool's errand to try and pick the top live performances of Aretha Franklin's storied career, which spanned 60 years, because, frankly, whenever she was on stage, that performance was likely going to become a moment. (I've had the good fortune to see her live twice and both performances will make any list of greatest concerts I've ever seen).

But these six performances by Franklin, who died Thursday at 76, capture the power and the range—not just vocally, but musically as well—of a voice that has inspired just about anyone who has ever picked up a mic, cementing her legacy as the Queen of Soul.
1. "(You Make Me Feel Like) A Natural Woman" with Gloria Estefan, Celine Dion, Shania Twain, Mariah Carey and Carole King on VH1 Divas Live, 1998 and her solo performance at The Kennedy Center Honors, 2015
While it's debatable whether all the women who performed at the first VH1 Divas Live were truly worthy of the "diva" title, Franklin showed her younger cohorts what the title really meant by delivering a master class in the diva arts when guest Carol King came on stage to sing (as a backup!) the classic hit she penned and performed on her iconic 1971 album, Tapestry.
Franklin would show out again while performing the song for the Kennedy Center Honors, where King was being recognized for her contribution to the arts. The Queen of Soul famously arrived on stage donning a full-length fur coat, which she dramatically took off and dropped on stage as her voice soared to the rafters. The Obamas, as well as everyone else, had no choice but to stand up and cheer for the queen.

2. "Nessun Dorma" from Turandot at the Grammy Awards, 1998
When opera legend Luciano Pavarotti took ill with a sore throat before his Grammy performance, Franklin stepped in to deliver one of the greatest performances in Grammy history. At this point, I'd never thought much about opera, but after seeing her show-stopping performance, I went to see Turandot the first chance I got when I moved to New York City.
G/O Media may get a commission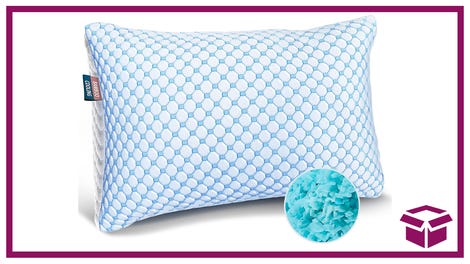 23% off
Nestl Cooling Pillow - Queen Size
3. "Precious Lord" at Martin Luther King Jr.'s funeral, 1968
Franklin's ties to the civil rights icon run deep—her father, Rev. C.L. Franklin, was one of the organizers for the Detroit Walk for Freedom, up until that point the largest civil rights march in U.S. history, two months before the March on Washington would eclipse it. It was during that Detroit freedom walk that King would do a test run of his "I Have a Dream" speech. When King was assassinated, his family asked Aretha to perform King's favorite song at his funeral.

4. "My Country, 'Tis of Thee" at Barack Obama's presidential inauguration, 2009
Fitting that the Queen of Soul would sing at the inauguration of the first black president. But this wasn't her first inauguration—she also performed "I Dreamed a Dream" for Bill Clinton's first inauguration gala and "God Bless America" for Jimmy Carter. Of course, the most memorable thing about the Obama inauguration performance was her gray, felt hat with the rhinestone-encrusted bow—a crown befitting a queen.
5. "Respect" at Aretha Franklin Day, 1968
Much like "(You Make Me Feel Like) A Natural Woman," Franklin left her indelible mark on another's song, completely making it her own; this time it was Otis Redding (Does anyone even remember what the original sounds like?) This timeless classic became a feminist anthem that is still teaching a generation of women how to demand R-E-S-P-E-C-T.